Good quality shoes not only offer stability and support but also aid in foot healing. Branded shoes contribute to better posture and gait alignment, benefiting the back, hips, knees, ankles, and feet. There are many shoe brands out there, so it is essential to find one that exceeds your expectations. Complete and perfect outfits require decent footwear which also protects feet from extreme temperatures. For strong support, flexible and sturdy shoes are essential, whether for the office or gym. Your choice of shoes reflects your personality.
In Pakistan, a country full of lively culture and varied fashion tastes, a flourishing footwear industry is found. In the busy streets and markets, numerous shoe brands catch the attention of Pakistani consumers. In this thorough blog, Tashheer reveals the Top 10 Shoe Brands in Pakistan displaying craftsmanship, innovation, and style.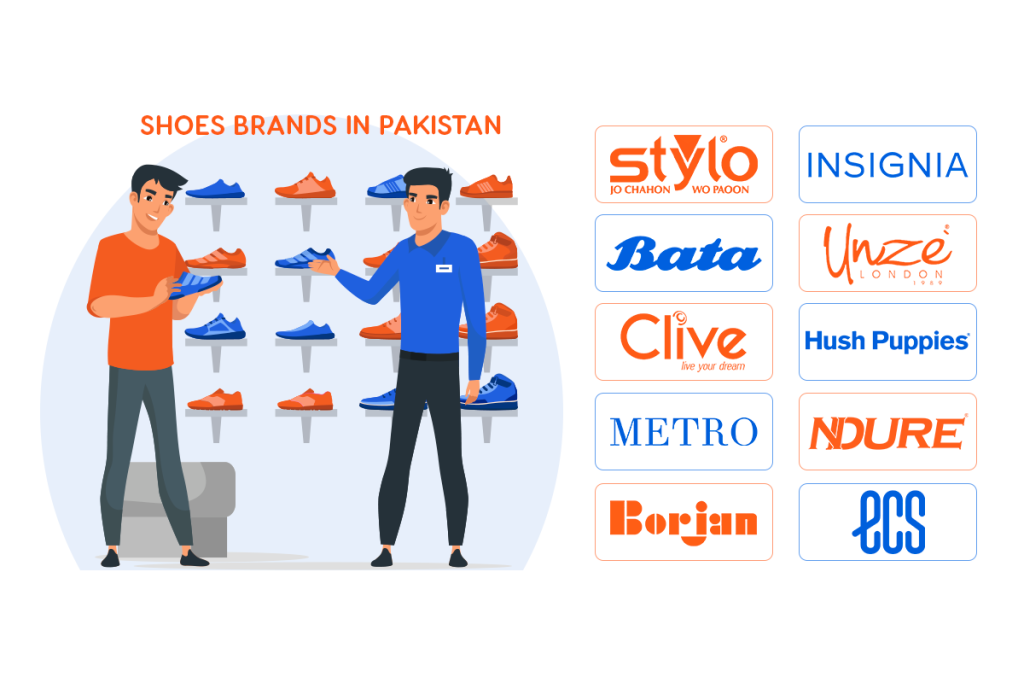 Top 10 Footwear Brands in Pakistan
If you are looking for the perfect shoe brand, check out this list of the top 10 shoe brands in Pakistan.
| | | | |
| --- | --- | --- | --- |
| Brand Name | Head Ofice | Founded Date | CEO in Pakistan |
| Bata | Lausanne, Switzerland | 1894 | Mr. Muhammad Imran Malik |
| Ndure | Singapore | 2004 | Mr. Shahid Hussain |
| Stylo | Lahore, Pakistan | 1970 | Mazhar Hussain Siddiqui |
| Hush Puppies | Rockford, Michigan | 1958 | Farukh Saleem |
| ECS | Lahore, Pakistan | 1954 | Usman Siddiqui |
| Insignia | Lahore, Pakistan | 2011 | Huzaifa Siddiqi |
| Metro | Mumbai, India | 1990 | Amir Riaz |
| Borjan | Lahore, Pakistan | 1986 | Salman Butt |
| Unze | Lahore, Pakistan | 2007 | Kamran Saleem |
| Clive | Lahore, Pakistan | 1972 | Qasim Raza |
Bata

Bata Pakistan Limited is a leading footwear manufacturer and retailer in Pakistan. The Bata Group, a worldwide footwear company with operations in over 70 countries, launched the company in 1931 in Pakistan. With over 250 retail stores across Pakistan, Bata Pakistan has a solid presence. The company sells footwear for men, women, and children, including shoes, sandals, sneakers, and slippers. Bata Pakistan is committed to providing high-quality footwear at affordable prices. In addition, the company is actively involved in charitable and social activities such as supporting local schools and developing sustainable footwear techniques. According to Tashheer's research, it's signature "back-to-school" campaign attracts a lot of attention from parents for student's shoes.
Global History
Bata is a big multinational company that makes and sells shoes, clothes, and accessories. It started in the Czech Republic and now has its headquarters in Switzerland. They sell about 150 million pairs of shoes every year and have more than 5,300 stores in over 70 countries. Bata has been a family business for over 125 years and has about 32,000 employees worldwide. Bata owns more than 20 brands, including Bata, North Star, Power, Bubblegummers, Weinbrenner, Sandak, and Toughees.
Founded
According to Tashheer's research, the Bata company was launched in 1931 in Pakistan. With over 250 retail stores across Pakistan, Bata has a solid presence nationwide.
Founder
Antonín Baťa
Tomáš Baťa
Anna Baťová
| Owner | Head Office in Pakistan |
| --- | --- |
| Bata Shoe Company (Pte) Ltd | Batapur, Lahore, Pakistan |
Bata Brand Extensions in Pakistan
Bata Red Label (trendy shoes)
Bata Flexible (comfort shoes)
Bata Comfit (comfort shoes)
Bata 3D (urban sneakers)
Ambassador (classic men's shoes)
Ndure

Ndure Shoes strides as a standout online footwear sensation in Pakistan, embracing a diverse clientele with its expansive array of products. You can also buy their shoes online, making it easy to shop from home. It is famous for its trendy, budget-friendly, and comfy shoes for men, women, and kids. They have all kinds of shoes like sneakers, sandals, boots, and formal shoes, made with good materials to make sure they last and feel good on your feet. Positioned for growth in the Pakistani footwear market, Ndure's focus on quality, design, and innovation, along with its strong retail and online presence, solidifies its reputation as a brand that cares for both customers and the community.
Founded
Ndure is a shoe brand from Pakistan that started in 2018. Opened its first store in Pakistan in 2014 in Lahore, the capital of Punjab province.
Involvement in Charitable Activities
Tashheer's research team found that Ndure in Pakistan is dedicated to social responsibility and environmental sustainability, supporting education and healthcare programs. Actively involved in environmental initiatives, it aims to reduce waste and use sustainable materials.
| Owner | Head Office in Pakistan |
| --- | --- |
| Ndure is owned by Service Industries Limited | Gulberg, Lahore, Pakistan |
Brand Outlets in Pakistan
It is based in Lahore and has more than 200 stores all over the country. The Tashheer team compiled a list of cities in Pakistan where Ndure Shoes has big outlets:
Lahore
Karachi
Islamabad
Rawalpindi
Faisalabad
Multan
Sargodha
Gujranwala
Hyderabad
Peshawar
Insignia

Insignia, one of Pakistan's premier high-end fashion merchants, is well-known for its fashionable items. Since its establishment in 2011, Insignia has been a prominent contributor to the luxury vogue industry. Its glamorous and fashionable designs have graced fashion week runways, pop culture, red carpets, and renowned fashion magazines. Insignia embodies unparalleled insight and superior quality, enabling the brand to offer expertise in creating distinctiveness, instant recognition, and elegance in manufacturing bags, clutches, women's shoes, and men's shoes & accessories.
Founded
Insignia opened its first store in Pakistan in 2011 in Lahore.
Outlets in Pakistan
Insignia has over 50 outlets across Pakistan. Presence in major cities like Islamabad, Lahore, Karachi, and Multan.
| Owner | Head Office in Pakistan |
| --- | --- |
| Stylish Associates (SMC PVT LIMITED) | Lahore, Pakistan |
Aim or Goal of the Company
Insignia aims to be a cherished luxury brand in Pakistan by creating high-quality collections each season. They prioritize their customers' needs and go the extra mile to deliver exceptional service, ensuring satisfaction and loyalty.
Clive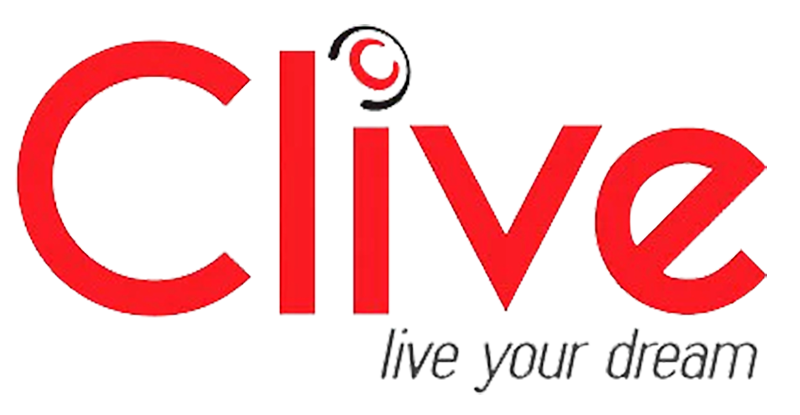 Clive is a top footwear brand that has been in the shoe business for 50 years. They began as Fine Shoes and operated as a wholesaler in Shahalam Market. It focuses on providing the best quality products for its customers. Clive stands out by using top-notch materials, careful craftsmanship, and paying close attention to details. This has given it a reputation for making high-quality footwear that meets the changing preferences of Pakistani customers. This direct-to-consumer strategy helped the brand establish a stronger customer bond, resulting in vital feedback and insights that supported the company's innovation and product development efforts.
Founded
In 1996, Clive Shoes opened its first retail location in Lahore, marking a crucial milestone in its expansion plan.
Their Mission
By 2025, 'Fine Group' will accomplish its target annual sales with prestigious brands, 50+ retail outlets, and state-of-the-art wholesale setups in Pakistan.
Their principle
Be physically and mentally present.
Prioritize customer needs.
Show care for the rights of others.
Take action and avoid unnecessary stories.
Be responsible and accountable.
Maintain discipline.
| Owner | Head Office in Pakistan |
| --- | --- |
| Fine Group of Companies | Lahore, Pakistan |
Brand Outlets in Pakistan
Here are some of the cities in Pakistan where Clive Shoes has huge stores:
Lahore
Karachi
Islamabad
Rawalpindi
Faisalabad
Multan
Sargodha
Gujranwala
Hyderabad
Peshawar
Unze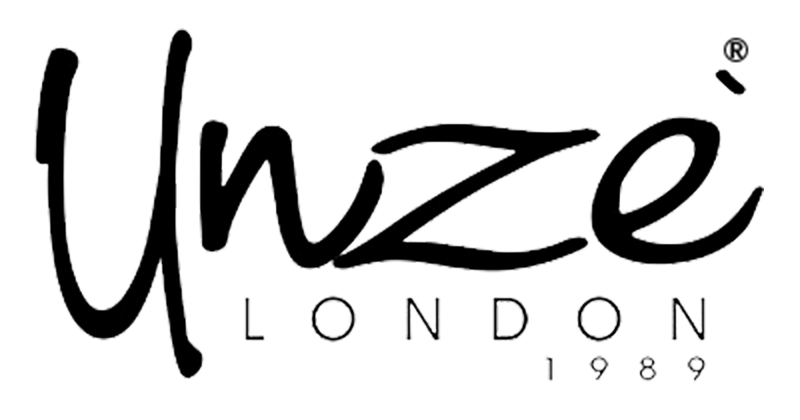 Unze London is a stylish fashion company that started in 1989. They sell a variety of products including women's footwear, matching accessories like belts and bags, and shoes for children and men. Our focus is on creating elegant and glamorous styles while maintaining high quality from production to sales. Unze Shoes started in Lahore, Pakistan, as a small workshop making shoes. Over time, it grew to meet the increasing demand for its products.
Tashheer's team found that this brand is known for blending some Asian culture into modern footwear, giving their customers a fresh and unique look. Whether you visit their stores in the United Kingdom or Pakistan or shop on their online website that serves customers worldwide, Unze London is the go-to place for the latest and fashionable styles in today's world.
Founded
Unzè London is a company established in 1989 by the Saleem family. Unze London is currently involved in the following operations:
Making footwear
Selling wholesale
Operating retail stores
Conducting retail sales through an online presence
| Owner | Head Office in Pakistan |
| --- | --- |
| Saleem family | Lahore, Pakistan |
Brand Outlets in Pakistan
As per Tashheer's comprehensive research, the Unze Shoes retail outlets in Pakistan are distributed across cities as follows:
Lahore: 4 stores
Karachi: 3 stores
Islamabad: 2 stores
Rawalpindi: 2 stores
Faisalabad: 2 stores
Multan: 2 stores
Sargodha: 1 store
Gujranwala: 1 store
Hyderabad: 1 store
Peshawar: 1 store
Borjan

In 1986, a company called Prestige started selling shoes for ladies and gents. They opened outlets in major cities in Pakistan on March 1, 1986, with the main office in Lahore. In the first two years, people really liked their products and services, and the company changed its name from Prestige to Borjan Private Limited. Borjan makes shoes and other leather products for both men and women. They have cool brands like Digger, Skywalk, GIG, Matilla, and Kashang. They have their own manufacturing units and aim to be a top-notch manufacturer of both private-label and branded footwear. Borjan focuses on providing great shoes at affordable prices by combining innovation, technology, skilled hands, and a strong work ethic.
Founded
According to Tashheer's research the, Borjan shoes opened its first outlet on March 1, 1986 in Pakistan. It has its head office in Lahore, Pakistan.
Their mission
With a staff of over 500 devoted employees and their sights set on goal, their goal is to increase the number of shops to 128 by 2024. Borjan Shoes has established itself as a premier footwear brand in Pakistan since its foundation in 1986, famous for its devotion to quality, craftsmanship, and elegance.
| Owner | Head Office in Pakistan |
| --- | --- |
| Rafum Group runs 108 shops of Borjan. | Lahore, Pakistan |
Brand Outlets in Pakistan
Borjan (Pvt.) Limited is a top fashion shoe seller with hundreds of stores all over Pakistan in 36 cities. It has a strong presence in major cities like:
Lahore
Islamabad
Peshawar
Metro

Over the years, Metro Shoes has become known for its fantastic fashion footwear and accessories. They offer a wide range of shoes and accessories for both women and men, including casual, seasonal, formal, fancy, and bridal collections. Metro Shoes makes sure to consider what people like and want. They bring in designs from other places and also make their own unique styles. Metro Shoes is one of the first brands that women trust for both style and comfort. With high-quality materials and special details, Metro Shoes captures the spirit of modern femininity, whether you are taking a relaxed walk or leading a business meeting. They take care of your feet with comfy, contoured footbeds, ensuring comfort all day long. Metro Shoes is committed to offering the best service, the best prices, and the best designs around the world.
Founded
Founded in 1986, Metro Shoes is a Pakistani brand that cares about providing great footwear. It is certified and wants to meet the needs of the community. In 2000, Metro Shoes expanded online, giving customers easy access to its wide range of products.
| Owner | Head Office in Pakistan |
| --- | --- |
| Nadeem Younas | Lahore, Punjab, Pakistan |
Brands Outlets in Pakistan
Tashheer discovered that Metro Shoes is well-established in several Pakistani cities:
Lahore: 13 outlets
Karachi: 8 outlets
Islamabad: 5 outlets
Rawalpindi: 4 outlets
Faisalabad: 3 outlets
Multan: 3 outlets
Hyderabad: 2 outlets
Peshawar: 1 outlet
Gujranwala: 1 outlet
Sargodha: 1 outlet
See More: Top Fast Food Brands in Pakistan
ECS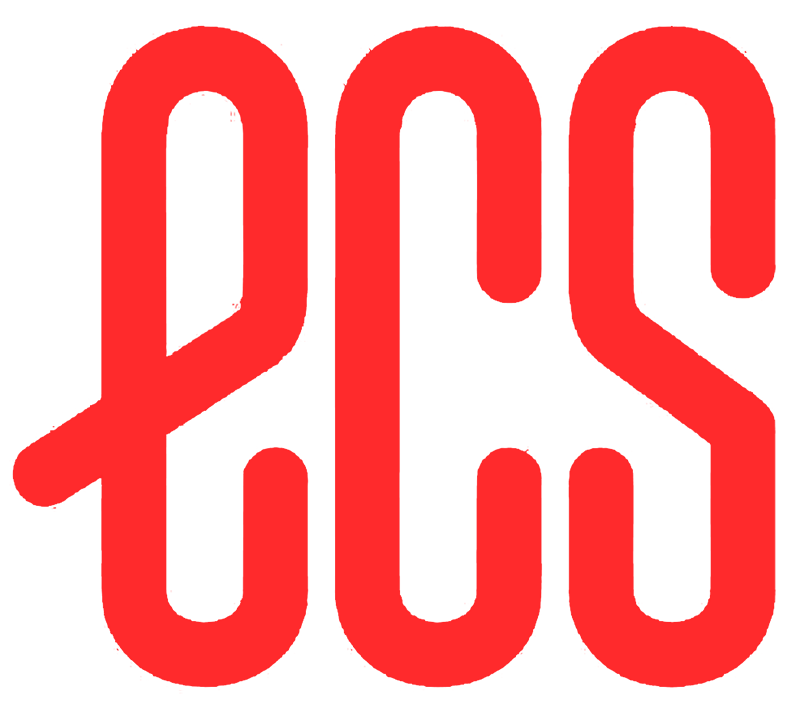 ECS is a local shoe brand that is known internationally. Despite being affordable, it offers high-quality shoes for women and children. The company became well-known in town for its convenient, strong, and stylish sandals when it opened just one store. Similar to other local and global brands, the ECS Shoes Collection gives its customers a wide range of stylish options. ECS not only makes shoes but also provides essential accessories for women's fashion. What makes ECS stand out is its commitment to quality, creativity, and convenience, along with a special focus on the timeless charm of the East.
Founded in
ECS, started its operations way back in 1954, from the famous Anarkali Bazar of Lahore.
| Owner | Head Office in Pakistan |
| --- | --- |
| Ehsan Rab Siddiqui | Lahore, Punjab, Pakistan |
Key Points about ECS
Wide Presence: Strong presence in KPK, North-Central-South Punjab, and Urban Sindh.
Generational Value: Providing additional value for money to the fourth generation of customers.
Longevity and Success: A leading footwear retailer for over six decades, contributing significantly to the retail sector.
Customer Satisfaction: Tradition of serving valued customers with satisfaction through effective management and workmanship.
Adaptability: Constantly seeking creativity and improved performance in the face of advanced technologies.
Commitment to Excellence: Pledged to remain committed to excellence, stay updated with developments, implement better management, and overcome challenges successfully.
Hush Puppies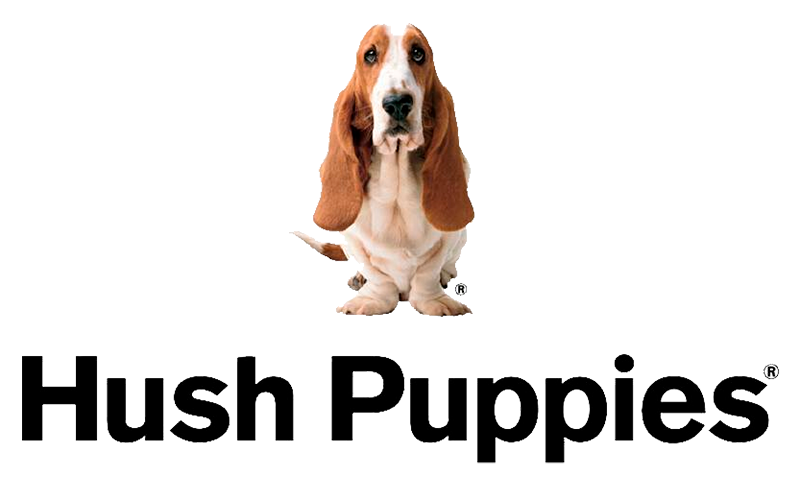 The company is known for its casual shoes, which are often made from suede or nubuck leather. Hush Puppies shoes are popular for their comfort and durability. Renowned for quality and comfort. Uses premium materials and skilled craftsmanship for durability. Features innovative technologies like Shockwaves cushioning system for exceptional comfort and support. Mikhail Gorbachev invited the brand to be the first American company to work in the Soviet Union. The brand is likely to continue to be successful in the country in the coming years.
Founded
Hush Puppies is an American shoe company founded in 1958 by Wolverine World Wide. Hush Puppies came to Pakistan in 1992. At that time, many shoes in the market were really uncomfortable to wear all day, bringing their signature comfort and style to the footwear industry.
| Owner | Head Office in Pakistan |
| --- | --- |
| Faraz Khan is the owner of Hush Puppies Pakistan | The brand's operations in Pakistan are managed through a regional office located in Dubai. |
Brand's Outlets in Pakistan
Hush Puppies has over 100 stores across Pakistan, with a strong presence in major cities such as Karachi, Lahore, Islamabad, Rawalpindi, Faisalabad, Multan, Hyderabad, Gujranwala, Peshawar, Sargodha, and Sukkur.
Stylo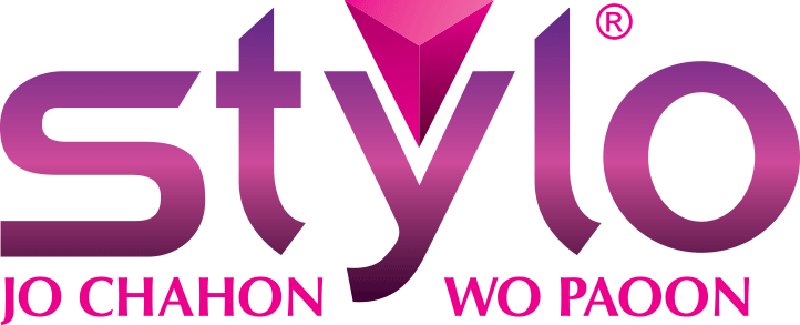 As an ISO 9001-2000 certified company, Stylo is committed to maintaining high quality and has no plans to slow down. Stylo Shoes' journey began as a small manufacturing unit in Lahore, Pakistan. The brand's unchanging commitment to quality and craftsmanship quickly set it apart from its competitors. Stylo's rigorous attention to detail, use of premium materials, and severe quality control techniques have all contributed to the company's reputation as a high-quality footwear manufacturer.
Founded
According to Tashheer's thorough research, Stylo launched its first branch in 1994 in Pakistan.
Brand's Retail Stores / Outlets in Pakistan
Tashheer founded approximately 200 Metro stores spread across over 100 cities in Pakistan, including:
Lahore
Karachi
Islamabad
Rawalpindi
Faisalabad
Multan
Sargodha
Gujranwala
Hyderabad
Peshawar
| Feature | Value |
| --- | --- |
| Online store launch year | 2008 |
| Product range | Over 10,000 products |
| Target market | Men, women, and children |
| Availability | Retail stores and online |
Footwear Range in Pakistan
Stylo offers a diverse range of footwear, including:
Casual Shoes: Sneakers, loafers, sandals, and boots made from leather, canvas, and synthetics.
Formal Shoes: Dress shoes, oxfords, and brogues crafted with high-quality leather for comfort and style.
Boots: Work boots, hiking boots, and fashion boots made from durable materials for support and protection.
Sandals: Flip-flops, slides, and closed-toe sandals in various materials like leather, canvas, and synthetics.
Chappals: Traditional Pakistani sandals for comfort and breathability, made from leather or synthetic materials.
Khusa: Traditional Pakistani shoes with intricate embroidery, suitable for special occasions, made from silk or brocade.
Slippers: House slippers, hotel slippers, and children's slippers in materials like cotton, flannel, and faux fur.
Softys: Comfortable and lightweight shoes made from a soft, pliable material, ideal for everyday activities.
Extended Fit: Shoes designed with a wider and deeper toe box for those with larger feet.
Final Words
Pakistan's footwear scene is a colorful tapestry of design, creativity, and quality, ranging from casual sneakers to sophisticated dress shoes. Our Tashheer research team found that these top ten shoe brands have won the hearts of Pakistani consumers and laid the groundwork for a dynamic and ever-evolving footwear industry ready to leave its mark on the global fashion landscape.