Pakistan is a nation with a rich cultural heritage and an expanding economy. Because of its strategic location, natural wealth, and large and diversified population, the country has attracted many global corporations. Job creation, knowledge transfer, and economic growth are among the benefits that these enterprises bring to Pakistan. In this article, we will analyze the top 6 multinational companies in Pakistan, their contributions to the country, and the industries in which they are involved. We will also examine the difficulties and opportunities these companies face if they want to succeed in Pakistan's competitive business climate.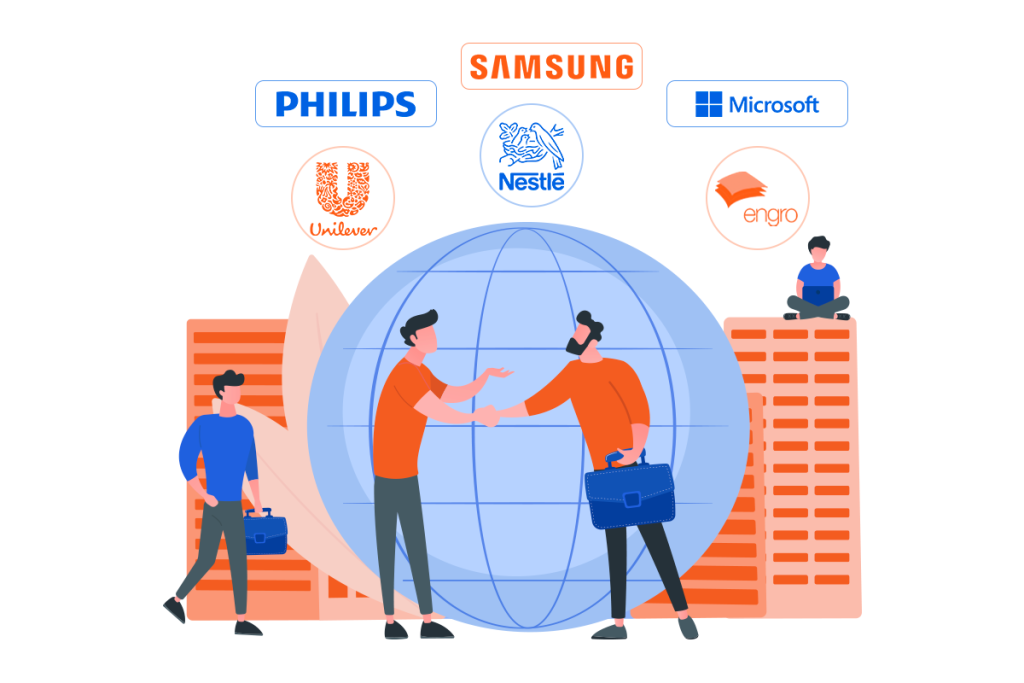 6 Top Multinational Companies in Pakistan 2023
Below are the six prominent multinational companies operating in Pakistan:
| | | | | |
| --- | --- | --- | --- | --- |
| Company | Founded Date | Headquarter | CEO | Industry |
| Unilever | 1929 | London, United Kingdom | Hein Schumacher | Consumer goods |
| Nestlé | 1866 | Vevey, Switzerland | Ulf Mark Schneider | Food and drink |
| Engro Corporation | 1965 | Karachi, Pakistan | Parvez Ghias Khan | Fertilizer and petrochemicals |
| Microsoft | 1975 | Washington, United States | Satya Nadella | Technology |
| Philips | 1891 | Amsterdam, Netherlands | Roy Jakobs (CEO) | Electronics and Healthcare |
| Samsung | 1938 | Seoul, South Korea | Lee Jae-yong | Electronics and home appliances |
Microsoft
Bill Gates and Paul Allen launched Microsoft on April 4, 1975, to develop and sell BASIC interpreters for the Altair 8800. Microsoft is a multinational technology company based in Redmond, Washington. It creates, manufactures, licenses, supports, and sells computer software, consumer electronics, PCs, and related services. Microsoft Pakistan was founded in 1994 and offers a variety of goods such as Windows operating systems, Office software, and Xbox gaming devices. Microsoft Pakistan has collaborated with local businesses and governments to encourage digital transformation.
Microsoft Pakistan provides a variety of software products and services including:
Microsoft Windows operating system
Microsoft Office Suite (Word, Excel, PowerPoint, etc.)
Microsoft Azure cloud computing platform
 Microsoft Dynamics business management software
Visual Studio development tools
 Microsoft SharePoint collaboration platform
 Microsoft Exchange Server email and messaging software
 Microsoft SQL Server database management system
Microsoft Teams collaboration tool
Microsoft Power Platform for app development and data analysis
Nestlé
Nestle, based in Vevey, Switzerland, is another worldwide food and beverage corporation. It is the largest food company in the world and ranks 73rd on the Fortune Global 500 list. Nestle operates in 189 countries and employs about 340,000 people. Nestle is the largest multinational corporation, with a nearly 50% market share. The Herald ranks it as Pakistan's fourth-largest enterprise. Nestle, one of the world's largest global companies, is also making an impact in Pakistan. The company has been in Pakistan for almost 50 years and has contributed significantly to the country's economic development. Nestle Pakistan, on the other hand, faces difficulties. The corporation confronts severe competition from both domestic and international companies, and Pakistan's economic growth has been slow in recent years.
Moreover, in the past few years, the company has faced criticism for its social and environmental practices. Despite these difficulties, Nestle remains an influential force in Pakistan. The enterprise has helped the country's economy by employing thousands of Pakistanis. Nestle Pakistan, on the other hand, remains devoted to its activities and is a big employer in Pakistan. Its products are enjoyed by millions of Pakistani people. The company is also aiming to improve health and education services for the people of Pakistan. The company has also contributed to the development of the country.
Unilever
Unilever is a multinational British consumer goods company headquartered in London, England. It is the world's largest consumer goods manufacturer, with a global presence in over 180 countries. Unilever's product portfolio includes food, beverages, home care, and personal care items. As an international corporation, Unilever has a significant presence in Pakistan. It has been in operation in Pakistan for over 60 years. It has contributed significantly to the country's economic progress. The company's products are readily available throughout Pakistan.It has been functioning in Pakistan since 1948 and has played an important role in the development of Pakistan's supply chain and distribution network.
Products
Unilever offers many different products, such as:
| Category | Brands |
| --- | --- |
| Food | Knorr, Hellmann's, Lipton, Ben & Jerry's |
| Beverages | Lipton, Brooke Bond, PG Tips |
| Home care | Domestos, Surf, Sunlight |
| Personal care | Dove, Lux, Rexona, Vaseline |
Engro Corporation
Engro Corporation is one of Pakistan's leading multinational corporations based in Karachi, Pakistan, Engro Corporation is an expanded conglomerate with businesses ranging from chemicals to food and energy to infrastructure. In recent years, the Engro Corporation has been actively involved in Pakistan's economic development, contributing to the country's GDP growth. Engro Corporation, on the other hand, faces issues in Pakistan, such as declining investments, currency devaluation, and growing costs. While the company works to overcome these challenges, its contribution to the Pakistani economy remains significant.
Key Businesses of Engro Corporation
Engro Corporation has 4 main businesses:
| Business Segment | Products |
| --- | --- |
| Fertilizers | Over 3 million tons of fertilizers |
| Energy | More than 2,000 MW of electricity |
| Petrochemicals | Various PVC products for construction, agriculture, and packaging |
| Foods | Dairy products, edible oils, and other food items under brands like Olpers, Tarang, and Omore |
Phillips
Philips, also known as Koninklijke Philips N.V. or Royal Philips is a big Dutch company. It started in Eindhoven in 1891 and mostly moved to Amsterdam in 1997 but its Benelux headquarters is still in Eindhoven. Philips used to be one of the biggest electronics companies in the world but now mainly focuses on health technology selling off its other businesses. Gerard Philips and his father Frederik started the company making light bulbs in 1891. They have about 80,000 employees in 100 different countries. In 2013, they removed "Electronics" from their name to show they shifted from making consumer electronics to healthcare technology.
Philips has a long history in Pakistan and is extremely committed to the country. The company has a solid relationship with its clients and a large network of dealers and distributors throughout Pakistan.
Philips Pakistan makes various products such as:
LED lights and lamps
Irons and garment steamers
Electric shavers and trimmers
Hair dryers and straighteners
Home theater systems and speakers
DVD players and Blu-ray players
Kitchen Appliances
Personal care products
Medical equipment
Automotive lighting products
See More: Top 8 Investment Companies in Pakistan
Samsung
Samsung is a big South Korean multinational company operating in Pakistan since the early 1990s. Samsung was started in 1938 as a trading company by Lee Byung-chul. Over the years, it got into different industries like food, textiles, insurance, securities, and retail. In the late 1960s, they began making electronics, and in the mid-1970s, they got into construction and shipbuilding. The company offers a wide range of products, including cell phones, televisions, and household appliances. Samsung Pakistan has made significant investments in research and development to deliver innovative products that meet the needs of Pakistani consumers.
Samsung Pakistan makes a variety of products;
| Product Category | Products |
| --- | --- |
| Smartphones | A range of smartphones from affordable options to high-end models |
| Tablets | Galaxy Tab series tablets |
| Wearables | Smartwatches like the Galaxy Watch and fitness trackers like the Galaxy Fit |
| TVs | LED, QLED, and UHD TVs |
| Home Appliances | Refrigerators, air conditioners, washing machines, and microwaves |
| Memory and Storage Devices | USB flash drives, external hard drives, and microSD cards |
| Audio Devices | Wireless earbuds and Bluetooth speakers |
| Cameras | Digital cameras and camcorders for both professionals and casual users |
| Printers | Printers for personal and commercial use |
Final Words
Pakistan is home to several large multinational corporations that operate in a variety of industries, including technology, manufacturing, and consumer goods. Through their contributions to growth and development, these companies have continuously demonstrated their worth to our country and future generations. In short, their existence is a benefit to our country. These enterprises offer investment, job opportunities, and technological improvements to the country helping it grow and flourish economically. If you have a chance to work for any of these companies, don't hesitate to take full advantage of it.