If you're a student in Pakistan searching for some extra income in your spare time, it might be difficult to locate part-time employment that works around your class schedule. Fortunately, as long as you have an internet connection and your own computer or laptop, there are lots of online part-time jobs that will allow you to earn money while studying. If you're seeking ways to increase your income while studying, these are the top 10 online part-time jobs for students.
Best 10 Highest-Paying Part-time Jobs for Students
Here is the list of the top 10 Part time jobs with handsome incomes:
Video Editing
The specialists who finalize the video for publication are known as video editors. The main elements of video editing are adjusting the video's tone, adding sound playback, and modifying the screen time with sound effects. If you enjoy watching videos and want to work part-time online without compromising on your education. it means this field belongs to you. Video editors can earn up to $35/hour. Maintaining your education while working a job that requires a commute and weariness from time constraints is difficult. Online employment is the best alternative for traveling to a physical office and managing your schedule. Freelancing websites like Fiverr, Upwork, Freelancer, People Per Hour, and Work Chest are perfect to start.
Digital Marketing
Online marketing refers to any marketing done digitally such as through websites, email, social media channels, blogs, or text messages. People use online marketing to attract new customers and raise brand awareness. Online Marketing is relatively fresh but it is becoming more and more popular. You can utilize several online marketing tactics for your business such as affiliate marketing, email marketing, and so on. There are countless companies that provide digital marketing services for various purposes, each with its own distinct identity. This is a great way to make a lot of money.
| | | |
| --- | --- | --- |
| Job | Skills required | Average Salary |
| Digital Marketing | Basic computer skills, knowledge of social media (LinkedIn, Twitter, Insta or Facebook) and digital marketing tools | PKR 30,000-40,000 per month |
| Graphic Designing | Basic graphic design skills, proficiency in Adobe Photoshop, Adobe Illustrator | PKR 35,000-45,000 per month |
| APP Development | Knowledge of Java, Kotlin, or Swift, experience with Android or iOS development tools | PKR 50,000-60,000 per month |
| Video Editing | Proficiency in Adobe Premiere Pro or Final Cut Pro, knowledge of basic video editing techniques | PKR 40,000-50,000 per month |
| Surveys | Attention to detail, ability to follow instructions | PKR 20,000-30,000 per month |
| Data Entry | Accuracy and speed, ability to type quickly | PKR 20,000-30,000 per month |
| Content Writing | Excellent writing and editing skills, knowledge of SEO and digital marketing best practices | PKR 30,000-40,000 per month |
| Online Tutoring | Knowledge of the subject matter you are tutoring, ability to connect with students | PKR 35,000-45,000 per month |
| Blogging | Creativity, ability to write engaging content, knowledge of SEO and social media marketing | PKR 25,000-35,000 per month |
| Affiliate Marketing | Ability to promote products and services online, knowledge of affiliate marketing platforms | PKR 30,000-40,000 per month |
Graphics Designer
Graphic design is a great opportunity for students who enjoy drawing, using colors, and sketching. If you possess these abilities, you can begin a career as a graphic designer and make a steady salary. Because the field of graphic design is large and constantly expanding, there are numerous chances. You'll need software like Adobe Photoshop, Illustrator, and InDesign to work in this sector. You can learn these skills for free through YouTube channels, online courses, and tutorials. Your earnings can rise as you gain expertise. It is essential to maintain a portfolio for future opportunities in this industry.
App Development
App development is a branch of software engineering that creates software apps for mobile devices. These apps can be native (running on specific mobile operating systems like iOS or Android) or web-based (running in web browsers like Chrome, Safari, Internet Explorer, or Firefox. Both types are often known as "apps." Companies create apps for a variety of purposes. Some wish to increase the accessibility of their products, while others want to establish themselves as industry leaders and generate client loyalty. Some target to increase operational efficiency, while others want to increase revenue from existing services. App creation might be an excellent part-time online profession for students in Pakistan.
Content Writing
Writing content for websites and other digital platforms is referred to as content writing. There are various types of content writers. Some would write Facebook ad text, some would produce content for commercial websites, yet others would write SEO-optimized website content, and still others would write books. However, all content writers are digital platform writers. You can learn it for free by using YouTube, Udemy, internet portals, and other premium courses. Research shows that there is a 29% increase in the demand for writing skills, making content writing a field with many opportunities. Every day, there are countless content creation jobs available. However, having the correct skill set in a given micro-niche is essential. Online content writing jobs can be found on platforms such as Fiverr, Upwork, Indeed, LinkedIn, and Rozee. pk.
You can also like: Things to Keep in Mind While Writing Content for Your Blog
Here are some types of Content writing, listed below
Content scriptwriting
Ghostwriting
Long-form content
SEO writing (Screenwriting)
Copywriting
Technical writing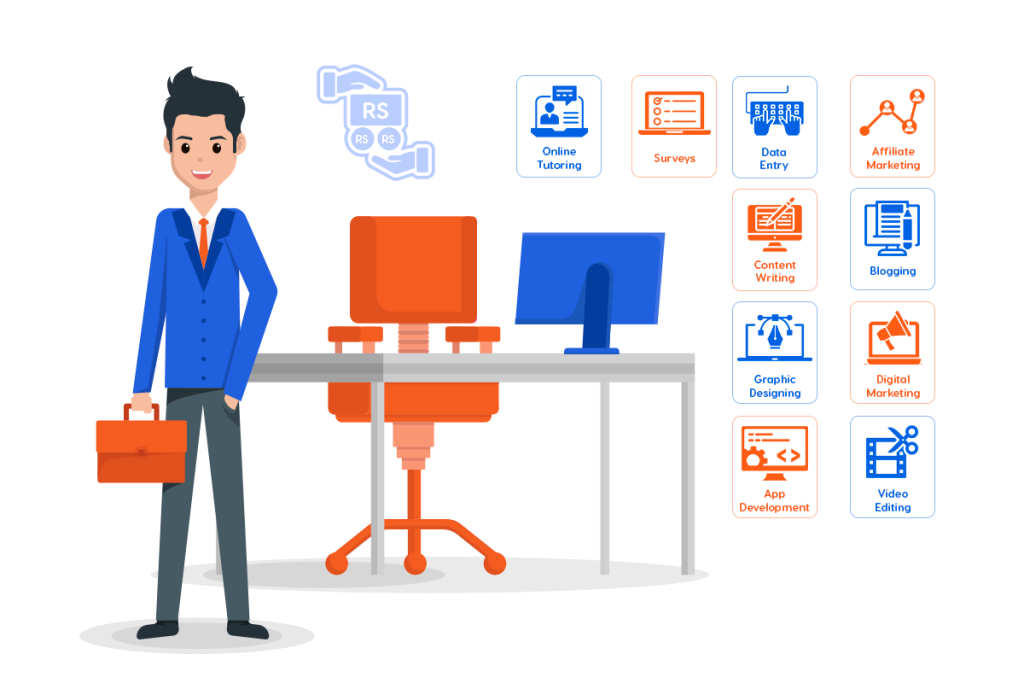 Online Surveys
It is a simple and unique online opportunity for beginners and students. An online survey is a series of questions that a business asks its clients in order to learn more about them. You will fill out the forms like Google surveys and make money per survey. You can find online survey jobs in Pakistan on different websites. If you search Google for online survey jobs in Pakistan, you will find hundreds of websites that provide similar opportunities, including LinkedIn and Upwork. However, as a student in Pakistan, you can begin this online job with no previous work experience. All you need is a laptop and a phone with a constant internet connection.
Data Entry
Data entry takes time but it may be a lucrative career if done from home. To begin, look for companies that hire remote data entry workers and inquire about their requirements. Send in your application along with your desired daily rate. Once accepted, begin working and submit your assignments online. Every organization has its own set of standards and expectations, so pay attention and ask questions as needed. It is important to have a constant connection with your manager in order to address any difficulties concerning your work or pay rate. Effective communication is essential for converting a part-time data entry job into a lucrative long-term opportunity.
Blogging
Blogging is a simple online job that students can do in their free time. It involves owning a website on platforms like WordPress or Blogger and sharing information with search engine users. Bloggers express their views on specific topics through writing or photos serving as information providers to search engine users. To succeed as a blogger in Pakistan, you need to grasp the basics of SEO (Search Engine Optimization) and content creation. These skills will enable you to write blogs and get them ranked on search engine result pages (SERP). To kickstart a blogging career, start by learning SEO and then create your blog on specific niche topics. This approach can help you earn money online while pursuing your studies at a university or college.
Online Tutoring
Online tutoring is a job that demands you to teach students online. In this type of teaching, conversations happen through online tools like Google Zoom. One significant advantage of online education is that it may be performed from any location. If you are an expert in your industry, this online job in Pakistan is waiting for you. Cambly, Preply, TutorOcean, Wyzant, Strive Academics, and Learn To Be are also online tutoring platforms in Pakistan. Create an account on these websites and begin your online journey right away. It is simple to become a successful online tutor. All you need are a quality camera, a whiteboard, a sound recording system, and a nice lighting system in your teaching location.
Affiliate Marketing
Affiliate marketing is an excellent part-time online job in Pakistan for students particularly those who are new to marketing. Affiliate marketing involves creating blogs on products that have affiliate programs and earning a commission when someone purchases through your affiliate link. The good news is that you don't have to produce the products from the start, you can use pre-existing information such as product descriptions or articles from other sources. However, the downside is that the commissions are typically small, often around 5% or less. There is also tremendous competition from other affiliates offering the same things, so finding popular items to promote on your website may take some time. You might also look at CPA (cost per action) which pays you when someone performs a certain action such as installing software or watching a video.
Final Words
Many online jobs in Pakistan let students make extra money while still focusing on their studies. Students can choose from various options like data entry, freelancing, content writing, online tutoring, social media management, online surveys, graphic design, blogging, affiliate marketing, and online selling. Websites such as Fiverr, Upwork, Guru, and Freelancer connect students with clients around the world, giving them a platform to display their skills. By gaining the required skills and using online platforms, Pakistani students can start a successful online career while continuing their education.