Start getting leads for your business
Start getting leads for your business
Generate more sales with
Potential Leads
Generate more sales with
Potential Leads
Have you been struggling with your lead generation efforts? If yes, then you are at the right place. Tashheer has helped a number of established businesses and startups improve their campaign's success rates. We know the way to generate potential leads which will boost your sales. We use all digital marketing tools including SMM, PPC and SEM to rocket-up your lead generation process.
Leads for Real Estate
Create tons of leads for your real estate business in any city of Pakistan with our lead generation strategy.
Leads for Call Center
Our comprehensive lead generation campaign helps you receive more calls from potential clients.
Leads for Brands
Let our effective lead generation plan make your brand known to thousands of people in Pakistan.
Leads for Financial Services
Whether you are a bank or an insurance company, we can help you with more leads.
Make yourself known to thousands of potential customers
Make business known to everyone
How fresh leads can boost your sales in Pakistan?
How fresh leads can boost your sales in Pakistan?
Often regarded as the oxygen for your sales, fresh leads are the way to accomplish your sales goals. The database of possible customers helps to find and mature deals. We can hunt this list of people by designing a targeted campaign for your product or real-estate project. Utilizing online means for lead generation is the perfect for obtaining potential leads. Digital media strategists at Tashheer use every platform to create product-related awareness among local Pakistani audiences.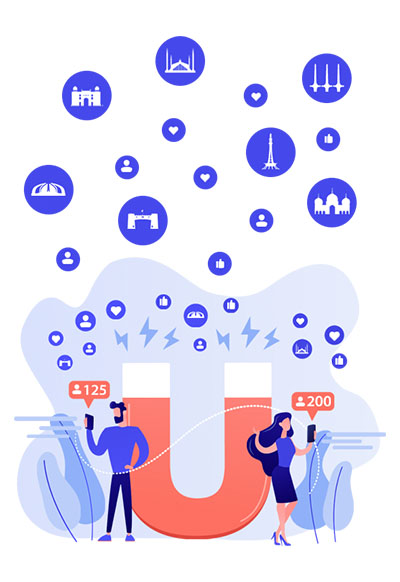 We Promise Leads That are Apt to Convert
We Promise Leads That Convert
Our Way of
Generating Leads

for Your Business
Our Way of
Generating Leads

for Your Business
We generate traffic to your business's website and convert those website visitors into leads and then those leads into loyal customers. Tashheer Digital has a great team of content writers, email marketing, and social media marketing experts who will help you with your lead generation campaigns. Moreover, our SEO geeks, active social media team, native advertising, and referral network will help you get what you are looking for.
Our team will help you in developing a good plan and creating a more customer-friendly experience from the start of the campaign so you can get excellent returns at the end of the day. Keeping up with the best trends can be a challenger in lead generation, but that is what we are here for. Reach out to us anytime if you are looking to expand your customer base and want to make us a part of this journey.

Interested in Working Together?

Call our UAN to start a project. We offer a free audit of your current social media standings.
Means no fee, no contract for any consultancy. We have a WhatsApp on the same UAN number.
Call our UAN to start
a project and free Consultation.
We have a WhatsApp on the same UAN.
We place the highest priority on quality
What Tashheer can do to offer you
High Quality Leads

?
What
Tashheer

will do to offer You High-quality Leads?
Tashheer offers targeted and personalized B2B outbound lead generation services for businesses across Pakistan. The company takes pride in generating sales for its valuable clients through dynamic and constructive lead generation strategies, including data appending, list provision, lead scoring, and others. Our digital marketing team integrates with the internal systems of our clients and execute smoother appointment to bring greater ROI.
Consult to an Expert for free
Let's Speak to an expert for a free consultation
No need to pay or sign a contract. Our digital ninjas are available for a free audit of your current social media standings. They will evaluate the score of your website, social media, and search engine visibility. On the basis of that report, they will give you suggestions and a plan.
We ensure you privacy of your phone number, website, and analyzed data.
Any Question?
Any Question?
Still, question in mind? check below for general FAQs or contact us directly by visiting contact page.
What is Lead generation?
admin
2021-11-26T11:17:05+00:00
Creating interest in a product or service with a view to converting that interest into a sale is the goal of lead generation. Lead generation holds a great value in the sales process for multiple B2B companies, as their products are expensive and they have fewer chances of selling directly from their websites. The acquisition of new leads allows businesses to educate and cultivate potential customers through blogging, email marketing, networking, social media marketing, live events & seminars, website landing pages, and coupons.
Is it possible to acquire leads through social media?
admin
2021-11-26T12:41:16+00:00
Yes, social media is a perfect tool to generate leads. Businesses can generate leads through social media to find customers who are interested in their products or services. One of the best things about these leads is that they can be used to engage potential clients, whether to introduce a new product or to tell a story about an offer.