Plan and execute your Search ads today
Plan and execute your Search ads
Get the best of
SEM
in Pakistan
Get the best of
SEM
in Pakistan
Get your business or website placed on a search engine as an Ad to start getting visitors and leads. We will help to find keywords, create performing ads, and monitor results for your SEM campaigns. Our SEM strategy will boost your website's visibility in search engine results pages (SERPs). PPC experts at Tashheer will guide you through the whole process to get the best search engine marketing in Pakistan.
Keywords Planning & Research
We do essential keywords research before planning and executing an Ad.
Designing of Creatives
An attractive Ad sells more than a simple one. Therefore, we put effort into content.
Creation of Ad Campaigns
To get the maximum ROI, our PPC experts work hard to plan a campaign.
Monitoring & Optimization
We look closely and monitor performance after running an Ad to optimize the results.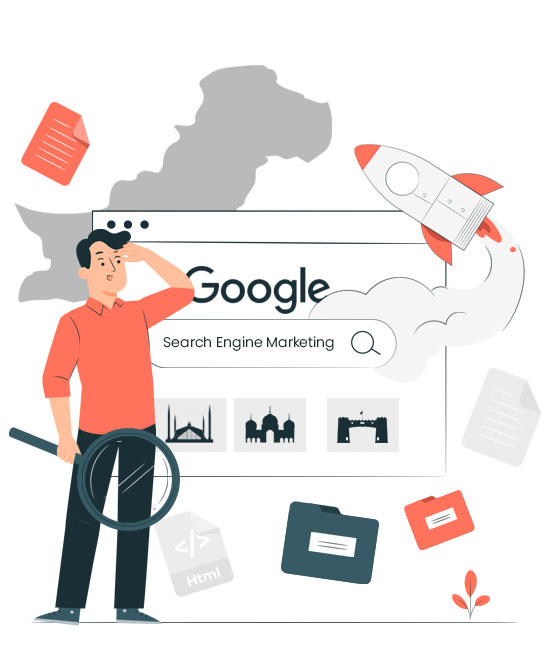 Understanding the significance of SEM
Understanding the significance of SEM
Why is SEM So Crucial to Your
Business Growth

in Pakistani market?
Why is SEM So Crucial to Your
Business Growth

in Pakistani market?
With more and more consumers and customers shifting to online platforms in local market for purchasing products and buying services, SEM in Pakistan has become a key and most viable marketing strategy for improving the outreach of online businesses.
A big number of new visitors to a website find it by entering a search query on a search engine. So, in SEM, advertisers are required to only pay for the impressions that result in visitors that ultimately improve the website's organic ranking in Search Engines. Another big difference that comes with SEM is that while looking for something in Search Engine, when people enter search queries, they have the intent and are in a genuine mood to make a purchase of a service or product compared to social media and other platforms where they don't particularly seek something for a buy. For example, people use Facebook and Instagram primarily for entertainment and socialization purposes and don't have a serious intent of searching and buying something.
Consult to an Expert for free
Let's Speak to an expert for a free consultation
No need to pay or sign a contract. Our digital ninjas are available for a free audit of your current social media standings. They will evaluate the score of your website, social media, and search engine visibility. On the basis of that report, they will give you suggestions and a plan.
We ensure you privacy of your phone number, website, and analyzed data.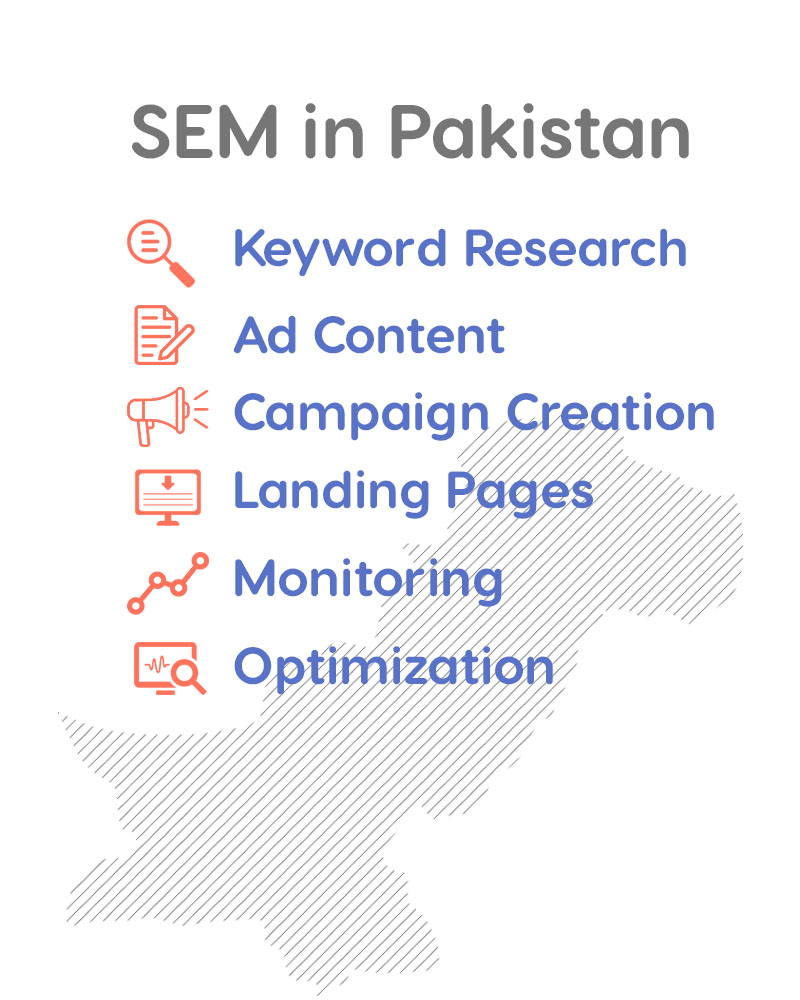 Top-rated SEM Company in Pakistan
Top-rated SEM Company in Pakistan
Utilize Tashheer Proven
SEM Services in Pakistan

to Accomplish Your Objectives
Utilize Tashheer Proven
SEM Services in Pakistan

to Accomplish Your Objectives
Search Engine Marketing, unlike other forms of digital advertising, is non-intrusive and reaches audiences when they are themselves looking for it and not while they are busy with their online routines. Another advantage of SEM is the quick delivery of results and generating traffic to a business in a short time. SEM can be a complex thing for a non-technical person, so this is where we step in with our Search Engine Marketing professional to help you enhance your web presence leaving you to focus on the business end of the project.
Tashheer Digital, based on the information you provide us and with additional research, crafts a compressive SEM strategy that suits your business. Our agency also works on your key competitors the field and keeps you informed about what other horses are doing in the race.

Interested in Working Together?

Call our UAN to start a project. We offer a free audit of your current social media standings.
Means no fee, no contract for any consultancy. We have a WhatsApp on the same UAN number.
Call our UAN to start
a project and free Consultation.
We have a WhatsApp on the same UAN.
The effort behind every successful SEM Campaign
Process: How Tashheer Handles your SEM Project
Process: How Tashheer Handles your
SEM Project
As the business gets momentum with our well-executed SEM strategy, we monitor the hour to hour and day-to-day results for your campaign while designing and executing new plans. Tashheer, like other companies involved in the SEM business after making an assessment of your keywords, sets up an effective plan for your business. A plan is crucial to help your business achieve its marketing goals. Therefore, we support you in creating and building excellent clientage with our marketing plans.
Any Question?
Any Question?
Still, question in mind? check below for general FAQs or contact us directly by visiting contact page.
How to use PPC for e-commerce marketing?
admin
2021-11-25T19:28:19+00:00
PPC for eCommerce is a marketing tactic used by online businesses to promote themselves and their products with the help of PPC advertisements. These advertisements can be displayed on search engines like Google, websites, and social media platforms. Pay-per-click advertising is one of the best methods for generating sales through eCommerce since it targets buyers who are ready to buy. Using PPC for eCommerce consists of three simple steps:
Ad Creation
Create a call-to-action ad that leads to your landing page. You don't need images, just two lines of copy are enough.
Keyword Selection
Select the most effective keywords that will help bring traffic to your ad.
Bidding
You will then bid for the ads after you have created the ad and chosen the keywords.

Do reviews and feedback affect an e-commerce store?
admin
2021-11-25T19:41:04+00:00
Online reviews and feedback are important to any online store that wants to have a strong online reputation. Customer online feedback reveals a lot about your online business. Having a multitude of positive reviews can have a significant impact on your business's growth, boosting sales and creating a loyal customer base. Find out how online reviews and feedback affect your eCommerce store.
Develops Trusting Relationship
Contributes to SEO efforts
Facilitates problem-solving
Enhances customer decision-making
How content marketing can be used to boost sales?
admin
2021-11-25T19:40:54+00:00
TThe inbox marketing strategies use content marketing as a unique yet effective online marketing technique. Content marketing helps eCommerce businesses reach their target market and boost sales as a result. However, in order to achieve higher sales, you need to apply a proper plan. There's no such thing as a one-size-fits-all content strategy. You may want to diversify your content based on your target audience and for better results. Businesses can use content marketing in multiple ways to boost their sales such as:
Consistently deliver high-quality content
Create user-generated content
Add customer touchpoints to your content
Keep an element of a buyer persona
Product listings help boost sales
How to increase sales of online stores in Pakistan?
admin
2021-11-25T19:41:00+00:00
The concept of eCommerce goes beyond just setting up your online store and getting it running. Although you might be able to achieve sales through a website, if your eCommerce store isn't optimized, your expectations won't be met. To be able to maximize the profits from your online businesses, you must employ the right strategies and techniques in order to attract customers. Higher sales aren't easy, especially if you are in a competitive industry, such as eCommerce in Pakistan. The following tips help you get more sales for your online store in Pakistan.
Add appealing pictures to your text
Understand the trending hashtags
Make your ad extensions more clickable
Put an element of urgency on your website