Develop your customers trust with positive ratings
Develop your customers trust!
We
write reviews
that develop customers Trust
We
write reviews
that develop customers Trust
Tashheer offers genuine review writing services at the most affordable prices. Our dedicated team has the expertise to furnish good feedback for any product or business in Pakistan. We do not believe in fake things; we think that actual companies require fundamental marketing strategies, including overall good reviews on Google and Facebook in Pakistan. Where others may ignore this, we see reviews as one of the most effective strategies in digital marketing to achieve more significant increase in sales and conversion. Positive feedback and a five-star rating from customers help you to build customer loyalty and trust.
Google Reviews
We provide original human-written reviews for your brand or product in Pakistan
Facebook Reviews
Get authentic facebook users reviews and ratings of your selected city
Trust Pilot Reviews
Thrive your business to the next level with our Trust pilot reviews service
Star Ratings
Need to develop customer's trust? Consult with us to make a user loyalty policy
Check how customer's feedback impact your ratings
eStore needs eCommerce marketing
Why
Positive Reviews

are so important for your Pakistani brand or business?
eCommerece Marketing: How it can lift up your sales of eStore in Pakistan?
Online reviews are an effective way to shape the reputation of your brand in the digital marketplace. You can use them to grow your brand impact, generate new sales, increase revenue, and improve your business strategies. In the growing Pakistani eCommerce industry, it's normal for people to check reviews before buying a product or service. If a customer leaves a bad review on Facebook or Google, it will affect your other potential customers who eyed your product to put in a cart. In contrast, if you have 5-star ratings on social media, more people will trust your product. If we summarize, people learn from the experiences of other buyers.
The companies, however, fail to pay much attention to their online ratings, which is a grave mistake. To them, it doesn't matter what customers think of their position. Businesses need to pay attention to their online reputation as well. The importance of online marketing is as great as real-life marketing, or even more significant, and online ratings are a great way to make a good impression on your business.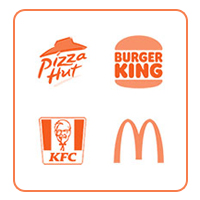 Reviews for Restaurants
A dedicated team for writing reviews for resturant business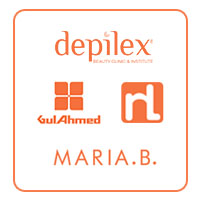 Reviews for Brands
Get shopping reviews for your brand of any type in Pakistan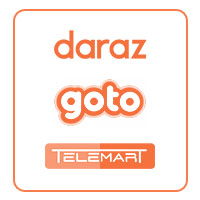 Reviews for eStores
We are providing geniune eCommerce ratings fo eStores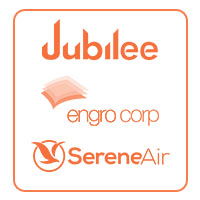 Reviews for Companies
It's easy to get professional reviews for your any company
Consult to an Expert for free
Let's Speak to an expert for a free consultation
No need to pay or sign a contract. Our digital ninjas are available for a free audit of your current social media standings. They will evaluate the score of your website, social media, and search engine visibility. On the basis of that report, they will give you suggestions and a plan.
We ensure you privacy of your phone number, website, and analyzed data.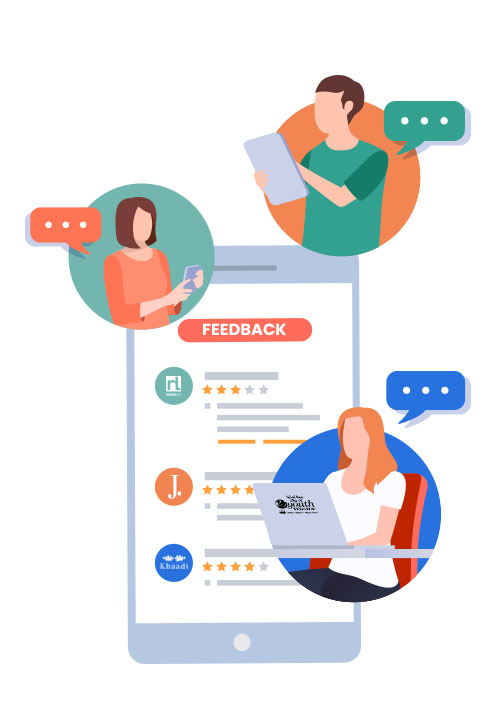 We write most impactful reviews for you
We write most impactful reviews for you
Build a good reputation for your brand in Pakistan with Tashheer
Reviews Writing

Service
Build a good reputation for your brand in Pakistan with Tashheer
Reviews Writing

Service
Our team at Tashheer Digital knows how important it is for your business to have great reviews and feedback. We care for you and generating leads for your businesses is our utmost mission. In addition to providing Feedback & Reviews, Tashheer is also an expert in offering services like Social Media Marketing, Pay Per Click, Leads Generation, E-commerce Marketing, YouTube Marketing, Content Marketing, Display Advertising, and Search Engine Marketing.
How Tashheer can Help you to Get More Reviews on Google and Facebook
Because feedback & reviews are essential for business development, Tashheer, a marketing company, gives businesses authorized Google reviews, as well as Facebook reviews to the companies in Pakistan. The method of providing feedback & ratings to our clients' businesses is totally safe and 100% genuine since we have a team of review providers across Pakistan. The writing in each review will also be unique and compelling. Additionally, businesses are able to request location-based ratings, gender-based reviews, short and long reviews. Reach out to us today for either a Google reviews or a Facebook reviews and let us help you build your business's reputation in Pakistan.

Interested in Working Together?

Call our UAN to start a project. We offer a free audit of your current social media standings.
Means no fee, no contract for any consultancy. We have a WhatsApp on the same UAN number.
Call our UAN to start
a project and free Consultation.
We have a WhatsApp on the same UAN.
Gain Trust and Loyality From Customers With High Star Ratings
What We Promise with our  SMM?
How Tashheer will lift your Business with
5-Star

Ratings
Online reviews can affect businesses both positively and negatively. Good reviews and 5-star ratings can leave your business with a good impression, and it allows customers to trust the products or services you are offering. On the other hand, bad reviews can immediately drive away consumers since they will have no faith in your product or service based on the ratings provided by other customers. Tashheer understands the significance of this effect and offers several vital impacts of 5-Star ratings for small and more significant businesses in Pakistan.
Any Question?
Any Question?
Still, question in mind? check below for general FAQs or contact us directly by visiting contact page.
What is the benefit of positive reviews & feedback?
admin
2021-12-02T22:42:15+00:00
Since Google began displaying little review stars in search results, people and businesses alike have taken notice of them. Businesses are asking themselves, "Does my business have an adequate online reputation? Whenever some look for some specific business or service online, Google shows the start rating. It is easy for consumers to compare competitors by reading those reviews & feedbacks from other people. As a result, you need positive reviews for your online business. Positive feedback can have the following benefits:
Increased ranking of your business on search engines
Improved click-through-rates
Hamari Web
Increased conversions on landing pages
Credibility in the eyes of potential clients
How to get more reviews on Facebook for my business in Pakistan?
admin
2021-12-02T22:44:47+00:00
Facebook holds a great deal of importance for businesses in Pakistan. Despite its popularity worldwide, Facebook remains one of the most popular social media platforms in Pakistan, and getting Facebook reviews is one of the many features that enable businesses to take over the market. However, it's not always easy to get customers to leave reviews on your Facebook business page. Here's how you can get more reviews on Facebook for your business.
Enable the review section on your business's Facebook page
Promote your page on other platforms
Post a request for reviews
Request feedback through Facebook Messenger
Send a text message asking for feedback on Facebook
Respond to every new review you receive
Use Tashheer Digital's Reviews & Feedback Services
How I can have more reviews on the Google Play Store and Apple Appstore?
admin
2021-12-02T22:51:06+00:00
A positive review from a user is a crucial element to boosting your app on Google Play Store and Apple App Store. Visitors are directly influenced by it when choosing whether or not to download your app, making it an essential conversion factor. To get more reviews for your app, keep in mind the following points.
Create a perfect product
Improve it regularly
Request feedback without being obnoxious
Detect your most engaged users
Tell them how rating affects you
Use social media
Get genuine reviews from Tashheer Digital Agency
How to get more reviews on Trustpilot?
admin
2021-12-02T22:48:19+00:00
Connecting businesses and consumers, Trustpilot is an online community that uses real customer reviews and feedback about their buying and service experiences. They have always aimed to assist people who depend on online businesses since their inception. Founded to build a trusting relationship between businesses and consumers, Trustpilot is an open and free platform that allows consumers and businesses to leave reviews. Trustpilot discusses the 5 tricks to get more reviews for your business.
Request reviews from your customers always
Take advantage of Trutpilot's automated review invitation service
Put a TrustBox review tab on your website
Using Trutpilot's eCommerce integration, send invitations automatically
Businesses must include a postcard in packages to allow customers to leave reviews