Businesses can submit bids on Google Ads, an online marketplace for advertising, to have their videos, service offers, or quick ads shown to website visitors. Videos, non-search webpages, mobile apps, and the search engine results pages of search engines like Google Search can all contain advertisements.
Overview
Google Ads, which covers Google.com as well as all of Google's other domains, partner websites, and apps, is the new name for Google's array of advertising opportunities. These tools are designed to help businesses and marketers connect with the billions of people who use Google Search to get information, YouTube to watch videos, Google Maps to discover new places, Google Play to find apps, the internet to browse content, and more.
Thanks to the new Google Ads brand and solution, it will be significantly simpler for companies of all sizes to deliver valuable, reliable advertisements and provide the best experiences for current and potential customers.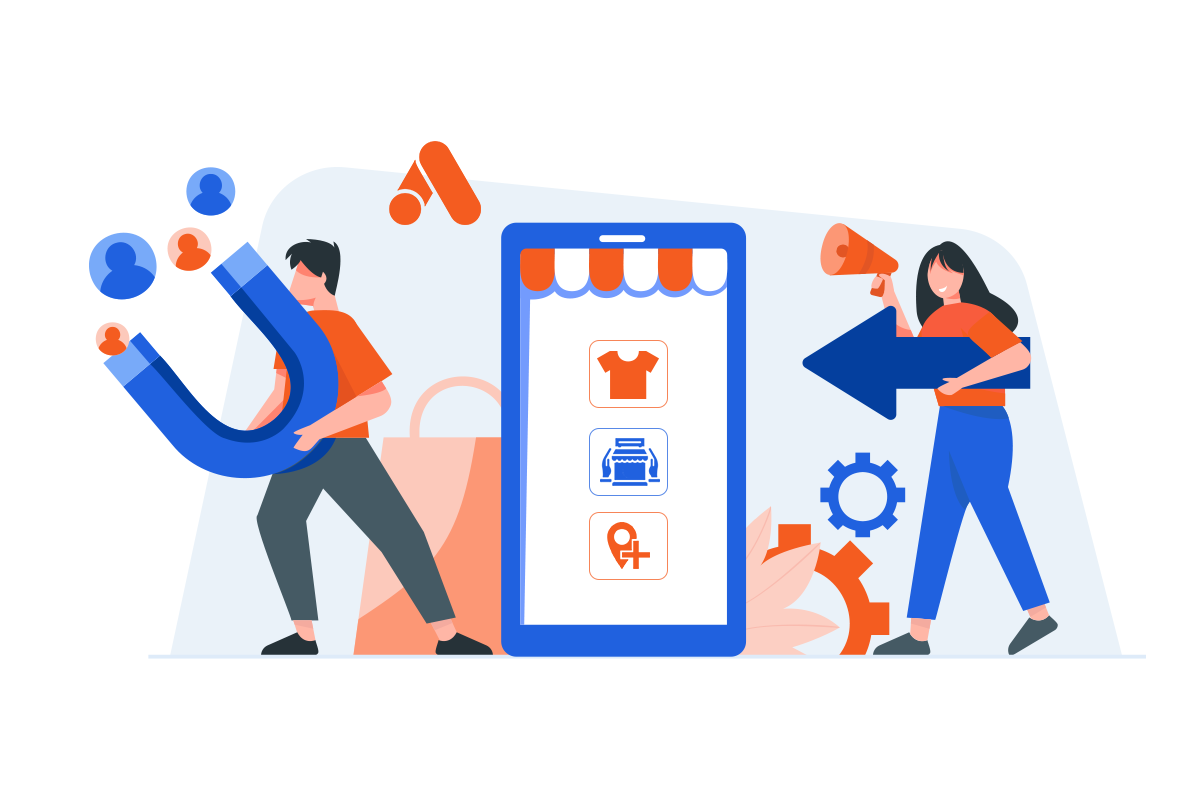 Is Google's Changing Face a Great Opportunity for Businesses?
With the introduction of Google Ads, a new campaign type was created exclusively with small businesses in mind. With innovative campaigns as the unique Google Ads default experience, starting your advertising career has never been simpler. These new campaigns use Google's renowned creativity and advertising technologies to assist business owners in accomplishing their goals without heavy work.
According to research, 90% of small company owners use online advertising primarily to entice customers to call, visit, or buy something. These goals are at the center of your digital marketing efforts thanks to innovative campaigns from Google Ads, and you can now build ads in a matter of minutes to begin driving actual business results.
A practical guide to using Google Ads to reach potential customers
Google advertising is a terrific strategy for reaching new potential clients. More than half of smartphone users claim to have located a new company or product due to a smartphone search. As a result, businesses now have the chance to acquire new clients by offering the ideal solution at the perfect moment.
For example, bakeries can highlight their baked goods to customers looking for a birthday cake, while mechanics and garages can advertise their services to people looking for auto maintenance. In addition, because of the information on their smartphones, one in three users has made purchases from businesses or brands different than they wanted.
You want customers to visit your store to increase sales as a local company owner, right?
It would help if you thus organized a regional campaign. A local campaign's objective is the same as yours: to entice customers to your establishment. You are displaying your adverts to potential clients close to where you are aided in achieving this. It also saves you time because it is highly automated. Local campaigns know that your proper business growth occurs offline, so you should concentrate there.
You need to supply the location of your store, the campaign budget, the ad content, photographs, and videos. Afterward, Google will optimize your bids, ad placements, and combinations.
It also assists you in maximizing store visits by displaying advertisements on the following networks
Network Search on Google (search results page)
Display Network by Google (banner ads on other websites)
Maps on Google
YouTube
Optimizing your website for ads can increase the return on your ad investment, just like selecting the appropriate keywords can. A landing page matching your advertisement is an excellent method to optimize your website. Make sure customers are directed to the product page when they click on an advertisement for a new product, for instance. Customers have to take an extra step to find that particular product if they are directed to homepage or anything else.
If you have already paid for the ad, click; that might not result in a conversion. Making your website simple to navigate is another method to improve it. Make it simple for customers to find what they're looking for since they clicked on your ad in the first place. By organizing the information on your website logically, such as by keywords or product category, you may improve the consumer experience, and potential customers will reach you.
Everyone has experienced visiting a website, leaving, and viewing advertisements for the business or goods you browsed. Retargeting is one of the best strategies Google AdWords has for increasing revenue. In a conventional sales funnel, prospective clients who have previously visited your online store are already eager to buy.
It has been demonstrated that making your goods more visible as they continue their online browsing will boost sales. Of course, Retargeting does increase the cost of your initial investment, but given the higher likelihood of success, it's a strategy that has paid off for many firms.
This might be the most successful and genuine method for attracting Google Ads customers.
Utilize the Chrome extension Facebook Pixel Helper.
You can use it to determine whether a company utilizes face pixels on its website.
You'll see that the majority of websites don't make use of pixels. So that is the range of leads you have.
You can make a discovery call to those companies and inform them about the area that needs development.
Give a concise explanation of your plan.
Google advertisements direct users to the landing page and Facebook is used for retargeting that traffic.
It's fantastic. Is it not? These techniques enable agencies to obtain an end number of profit over the month.
One of the least expensive, most efficient, and quick ways to sell your company is through video. Increase your reputation and competence while generating more leads and sales. If you want to engage your audience, video advertising is a terrific choice. If someone watches your video, you pay for this kind of advertising.
Compared to TV advertising, video advertising can reach a large audience at a far lesser price. Video advertising is effective because it combines auditory and visual perception. By using music and animation, you can evoke strong emotions in your audience. The ability to tell your story is video campaigns' most significant benefit.
However, you should constantly consider the goal and suitability of this kind of marketing for your goods. For example, a video campaign is an excellent option if you want to share any messages or the history of your company or reach potential clients.
When executing advertising with Google Ads, you can contact potential customers based on their location. This strategy can be beneficial when using text ads, which are displayed alongside organic search results based on your chosen keywords. Remember that consumers today want everything at their fingertips and are more inclined to purchase from companies that provide flexible delivery and collection options. Therefore, your messaging should emphasize appealing possibilities, and you should post your product inventory online so that potential customers can quickly discover what's available and where. It's one of Google AdWords' most valuable tools to target your adverts to particular regions and demographic groups according to your needs.
It's no secret that more and more consumers are choosing mobile devices over laptops or desktop computers for their computing needs. So make sure your campaigns are responsive to mobile devices. To determine which machine most of your consumer base uses, keep tracking your conversions by the device. For example, online shopping research is significantly influenced by mobile devices. Many online shoppers begin their purchases on one gadget but finish them on another. Businesses can adapt their marketing and targeting following the likelihood that consumers would study products and services using mobile devices. Having a mobile-responsive website can ensure that your customers have a wonderful experience.
Take the time to develop appropriate keywords to reach prospective customers who are genuinely ready to buy because you are competing with many other businesses and rivals with your adverts. An illustration would be to substitute the search term "best attorney in Los Angeles" for the word "lawyer" in your advertisement. Pick your keywords carefully. Prioritizing keywords, you know, are local, might also be incredibly beneficial.
Make sure your keyword plan includes regional search phrases. Being deliberate with keyword usage is crucial if you have a limited marketing budget. You won't get the impression you want if you select too many keywords. Be purposeful when choosing keywords; only use words related to your most profitable demographic.
Are Potential Customers Able to Access Your Website?
To determine whether your website is prepared to draw potential clients through Google Search Ads, Google suggests utilizing this 8-point checklist:
Is the headline clear and compelling?
Is the loading speed sufficient for mobile?
Does it clearly state the advantages customers would experience if they buy your goods or services?
Does it include video or images?
Is the call to action (CTA) on your website prominent?
Finally, is it simple to find your company's contact details?
What do you want visitors to your website to notice most? Would a fresh visitor be able to find it without any difficulty?
Does your company have a presence online besides your websites, such as an accessible Business Profile listing or a social networking platform?
If the response to any of these questions was "No," Google advises upgrading your website to improve the user experience for your customers and position your company for Google Ads investment.
Final Words
To achieve remarkable outcomes, you must all put the strategies into practice. You can overcome your prior experience by successfully managing google advertisements for clients through those ethical means. With online advertising, you may select the most likely consumers of your products and services while excluding others. Additionally, you may keep tabs on who clicked on your advertising among them.
Online advertising enables you to connect with potential clients. At the same time, they utilize a variety of gadgets, including PCs, laptops, tablets, and smartphones. Finally, you may benefit from online advertising by using Google Ads to display your ads to the appropriate audiences at the proper times and locations.