Grab attention of million of people
Grab attention of million of people
Grow rapidly with
Display Ads
Grow rapidly with
Display Ads
Are you looking for a promotion campaign to boost your business? Display ads will help you to lift your brand reputation in Pakistan to the next level. Display ads come in various sizes and formats. In comparison, search network ads or PPC ads are shown when users search for a keyword on Google. While targeted display ads appear all over on web pages when people are surfing the internet. You can reach more people using Google Display Network and Youtube display ads.
Responsive Display Ads
Responsiveness of ads are meant to target both desktop and mobile audience.
Gmail Ads
Start showing your Ad on the top of Gmail inbox. Fill it with content and call to action.
YouTube Display Ads
Google display network allows you to show ads on YouTube with robust targeting features.
Custom Display Ads
At Tashheer, we can design custom creatives and content for your display advertising.
Comparison of Two Industry-leading Ad Stratigies
Two Industry-leading Ad Stratigies
The difference between
Display Network

and Search Network Ads?
Difference between
Display Network

and Search Network Ads?
Advertisements in search engines and ads on display are two forms of digital marketing in Pakistan that are different and yet effective. Search Ads aka PPC advertising in which brands pay to display their ads on the top and below the search results against the specific keywords. For example, if you are a doctor in Karachi and a user searches Top Doctors in Karachi, you will pay Google to display your ad on top of the search results against this ceratin keyword.
Alternatively, Display Network Ads have completely different performance than Search Ads. These ads appear on almost 2 million websites within the Google Display Network (GDN). In addition to websites, they appear on YouTube and Gmail as well.
Consult to an Expert for free
Let's Speak to an expert for a free consultation
No need to pay or sign a contract. Our digital ninjas are available for a free audit of your current social media standings. They will evaluate the score of your website, social media, and search engine visibility. On the basis of that report, they will give you suggestions and a plan.
We ensure you privacy of your phone number, website, and analyzed data.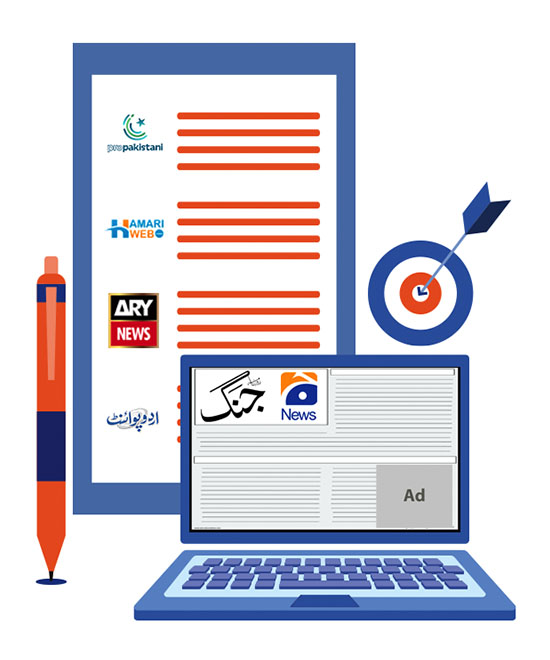 Advantages of Display Network
Advantages of Display Network
What Benefits
Display Advertising

Can Offer to Pakistani Market?
What Benefits
Display Advertising

Can Offer to Pakistani Market?
Below we have listed some of the benefits that you can reap from Display Advertising in your market through the proper use of keywords, target crowd, and expansive locales offered by Google and other search engines on the web. In local Pakistani market, Google Display Network (GDN) is preferred due to its huge market cap.
Variety
Display Advertising comes in different formats, shapes, and sizes. It can be introduced in various setups as well. This means you can pick from a multitude of styles to promote your business. You can make your ad campaigns more engaging with Tashheer. We provide you the best advertising campaign for business success with a variety of options.
Reach
Google Display Network: GDN offers you a vast array of advertising spots directly from your Google Ads account. Using GND's extensive reach and numerous options, you can target the right audience by placing your ads on the right websites. This includes segment and geographic segmentation and focuses on the explicit interest of your targeted interest group.
Quantifiable
Digital Display Advertising with Tashheer Digital allows you to get track of your clicks, impressions, and conversions through Google Ads. The business needs to know how the project in which they have invested a great deal of money is coming along. Therefore, Tashheer provides users with a comprehensive report of impressions, clicks, and conversions.
YouTube & Mail
Google display network allows you to show your ad on YouTube and Gmail. Further, you have options to select a particular type of channels, videos, search queries, and content on which you want to show your ad. Also, you can target specific mailboxes, email interests, etc. Above all, a display network global setting can empower you to select gender & age group to target your ads.

Interested in Working Together?

Call our UAN to start a project. We offer a free audit of your current social media standings.
Means no fee, no contract for any consultancy. We have a WhatsApp on the same UAN number.
Call our UAN to start
a project and free Consultation.
We have a WhatsApp on the same UAN.
Put Your Trust in Display Ad Professionals
What Benefits
Display Advertising

Can Offer to Pakistani Market?
How does Tashheer offer in
Display Advertising

Service?
Obtaining projected results from display ads is a crucial process in which a variety of work is carried out on accurate timings. At Tashheer, we are committed to getting maximum ROI for Pakistani clients. Our long-term display advertising strategy can build brand awareness to get potential leads. In addition, we can help our clients to design a custom campaign according to the goal.
Any Question?
Any Question?
Still, question in mind? check below for general FAQs or contact us directly by visiting contact page.
How to Display My Ads on Other Leading Websites of Pakistan?
admin
2021-11-30T16:01:12+00:00
If you own a business in Pakistan, you may wonder how to display your ads on other popular websites in Pakistan since it allows you to gain more exposure for your products and services. Advertisements on other major websites can give your business a boost that can result in increased sales. There are multiple third-party platforms available through which you can advertise your business. With these following ways, you can display your ads on other websites in Pakistan.
YAIO allows users to buy ad space on other websites that will feature your ads
Directly contact the website owners
Use Display Ad Networks including Google Display Network, Site Scout, Conversant Media, and others.
For showing ads on Pakistani websites, contact Tashheer Digital for buying ad space on leading local websites
Does display ads give good results?
admin
2021-11-30T16:05:20+00:00
Yes, the Display ads service yields good results for businesses. Display ads service is among the most effective and oldest means of online marketing. Display ads can be seen every time you visit a website or read a news article. On the other hand, it is most likely that you did not click on the ad unless it was of your trust. Display ads continue to provide a positive return on investment to most marketers, even if you take into account their costs and the number of clicks they receive.
Can I place my business ad on Urdupoint?
admin
2021-11-30T19:08:27+00:00
Urdu Point is the most popular Urdu website in Pakistan that features news and entertainment. Whether you are starting up a business or already have one, you can advertise your brand, products, or services on Urdu Point's premium sports and attract more traffic to your website. Advertising on Urdu Point gives your business exposure and increases your potential customer base. The top 10 websites to run your business ads in Pakistan are:
Urdu Point
Dawn
Hamari Web
OLX
Daraz
Samma
Express
Dunya
Tribune
Jang
How to Generate More Traffic Using Display Ads?
admin
2021-11-30T16:09:12+00:00
Businesses are developed and grown based on the number of visitors they receive. In order for an e-commerce business to be successful, it must gather a huge amount of traffic on its website to generate sales. Despite the fact that display ads continue to be the most effective way to drive traffic, they are not easy to place. You need to keep in mind the following points if you want to get more traffic with display ads:
Design banners that convert
Manage ad placement
Use creativity to increase reach
Create mobile responsive ads
Use compelling text and images
Make a strong call-to-action
Keep it precise