The banking sector is the backbone of any economy. Our country also has a growing financial services sector, featuring some of the top banks of Pakistan. Most of them have been serving the nation since the foundation of Pakistan. These banks have a long history of serving Pakistan and have played a significant role in shaping the country's economy through savings, investments, and various financial plans. They also contribute significantly to the GDP by helping overseas Pakistanis send remittances to their families. If you're looking for a reliable bank for your financial freedom, consider the following Banks before deciding.
Top 6 Best Banks for Overseas Pakistanis in Pakistan
Here is the list of the Top 6 Banks for Oversea Pakistanis to send money to their loved ones: 
United Bank Limited (UBL)
Habib Bank Limited (HBL)
Meezan Bank
MCB Bank Limited
Allied Bank Limited (ABL)
National Bank of Pakistan (NBP)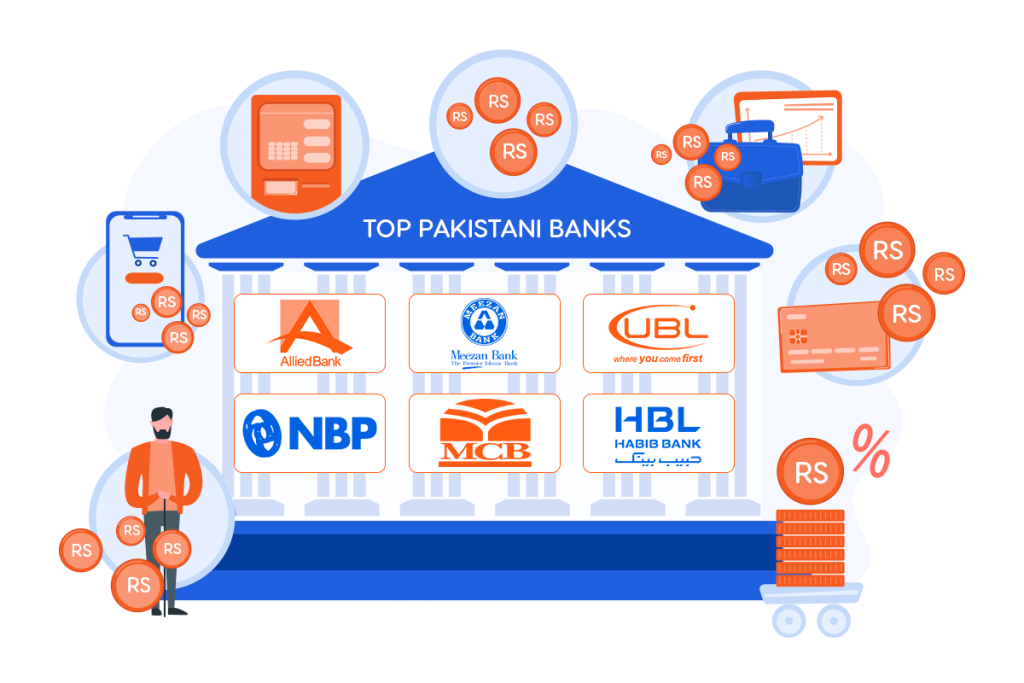 United Bank Limited (UBL)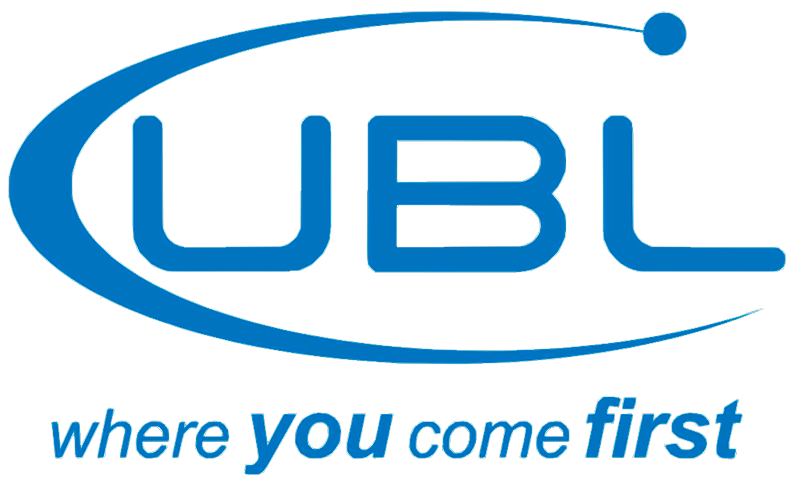 United Bank Limited (UBL) has established its reputation as a leader in digital innovation in the Pakistani banking industry. It has implemented a sophisticated digital platform that allows users to execute international transactions, manage accounts, and access financial products with ease.
The bank has a large network of branches around the country and is equipped with the latest technology. UBL is committed to providing customer-centric banking solutions for local as well as across-the-border financial transactions Its tagline also describes the fact that this bank cares more about its customers, which makes it one of the top banks in Pakistan. It is listed on the Pakistan Stock Exchange. Its strongest shareholder is the British investment company Bestway Group which owns 61.48% of the business.
| | |
| --- | --- |
| Branches | 1,400+ branches in Pakistan and 19 international branches. |
| Founded | 7 November 1958 |
| Founder | Agha Hasan Abedi |
| Headquarters | Karachi, Pakistan |
| CEO | Muhammad Jawaid Iqbal |
Habib Bank Limited (HBL)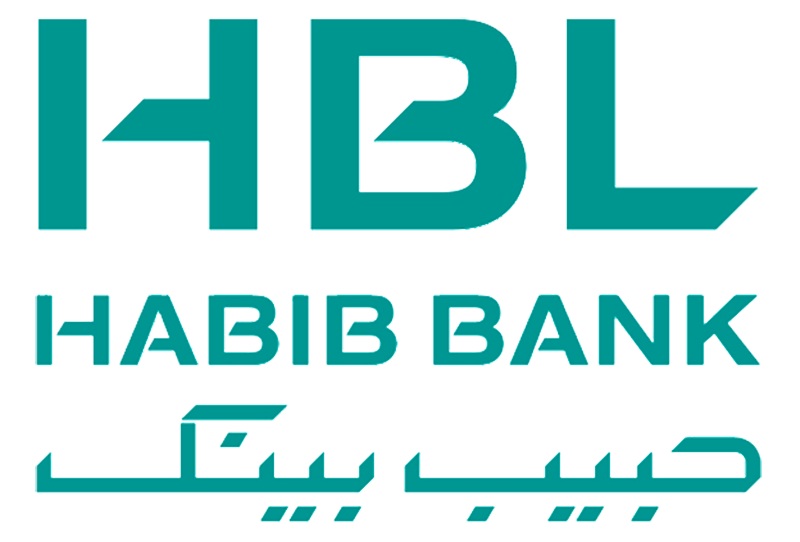 HBL is Pakistan's first commercial bank which was founded by the Habib Family in 1941. It expanded internationally in 1951 by opening its first branch in Colombo, Sri Lanka. In 1972, the bank relocated its headquarters to the Habib Bank Plaza, which was the tallest building in South Asia back then. The government took over the bank in 1974 but it was privatized again in 2004.
HBL has a vast network of branches and ATMs all over the country and a strong global presence which makes it one of the best banks in Pakistan. Their modern technology allows consumers to conduct smooth local and international transactions. It ensures reliable remittance services at affordable exchange rates. It is known for its reliability in handling international transactions. The Aga Khan Fund for Economic Development (AKFED), a Geneva-based organization, is the largest shareholder of Habib Bank Limited (HBL).
HBL has won numerous awards for its services and performance, including the following:
Best Asian Banking & Finance Retail Banking Awards 2021
Best Customer Franchise – Pakistan Banking Awards 2020
Best Investment Bank – Pakistan Banking Awards 2020
Best Bank for Small and Medium Businesses – Pakistan Banking Awards 2020
Best Domestic Bank – Asia Money Awards 2021
Best Bank in Pakistan – Euromoney Awards
Best Influencer Marketing Campaign – HBLPSL6 – Effie Awards
Pakistan's Best Digital Bank 2023 Award
| | |
| --- | --- |
| Founded | 25 August 1941 |
| Founder | Mohammed Ali Habib & Dawood Habib |
| Headquarters | Habib Bank Plaza, Karachi, Pakistan |
| Number of Branches | 1700 Branches in Pakistan & over 58 branches Overseas. HBL has 2,291 ATMs globally |
| Chairman | Sultan Ali Allana |
| CEO | Muhammad Aurangzeb |
Meezan Bank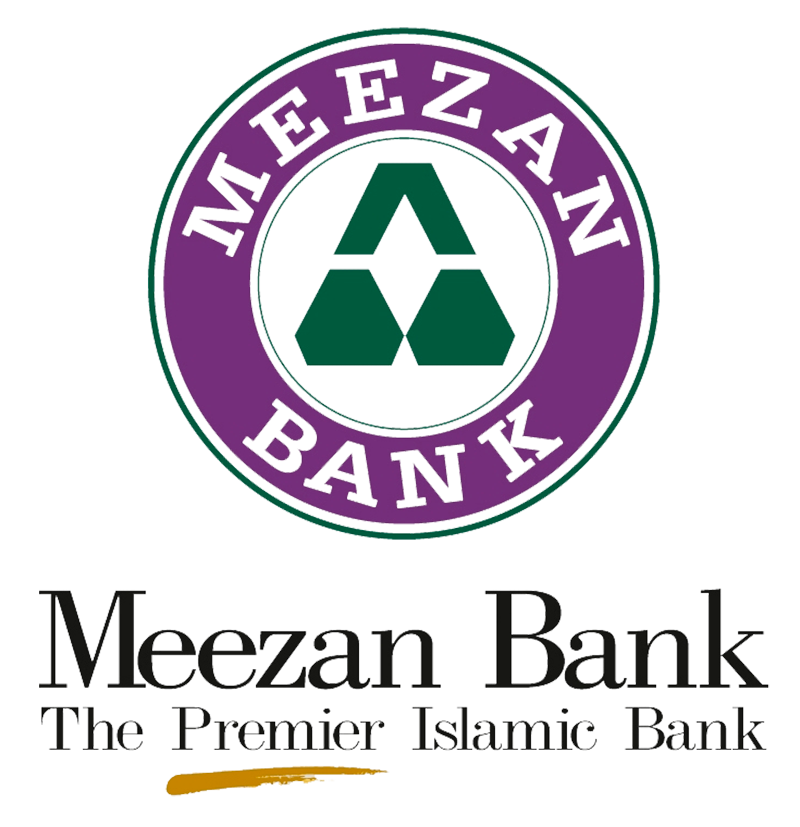 Meezan Bank Limited is the premium Islamic bank in Pakistan. In 1997, the bank began as an Islamic investment bank named Al-Meezan Investment Bank. It is well-known for its persistent commitment to providing Sharia-compliant financial solutions to the nation. From retail to corporate and investment banking, the bank's solutions are designed around Islamic values. The bank highlights its ethical and faith-based banking concepts in its innovative range of financial services. It is the reason Meezan Bank is an ideal option for those seeking financial alignment with their beliefs. Meezan Bank's reputation for honesty and principled financial solutions corresponds particularly well with individuals and businesses engaged in international transactions.
The shareholding structure is as follows:
Noor Financial Investment Company: 35.25%
Pak Kuwait Investment Company: 30.00%
Islamic Development Bank: 9.32%
It also has a presence in the United Arab Emirates, Bahrain, and Bangladesh. In the first half of 2023, Meezan Bank had impressive results. Their profit after Tax increased significantly, jumping from Rs 17.1 billion to Rs 32.6 billion compared to the same period last year, marking an impressive 90% growth.
| | |
| --- | --- |
| Headquarters | Karachi, Pakistan |
| Founded | 27 January 1997 |
| Number of Branches | 900 Branches and 1,300 ATMs Globally |
| Chairman | Riyadh S.A.A. Edrees |
| CEO | Irfan Siddiqui |
MCB Bank Limited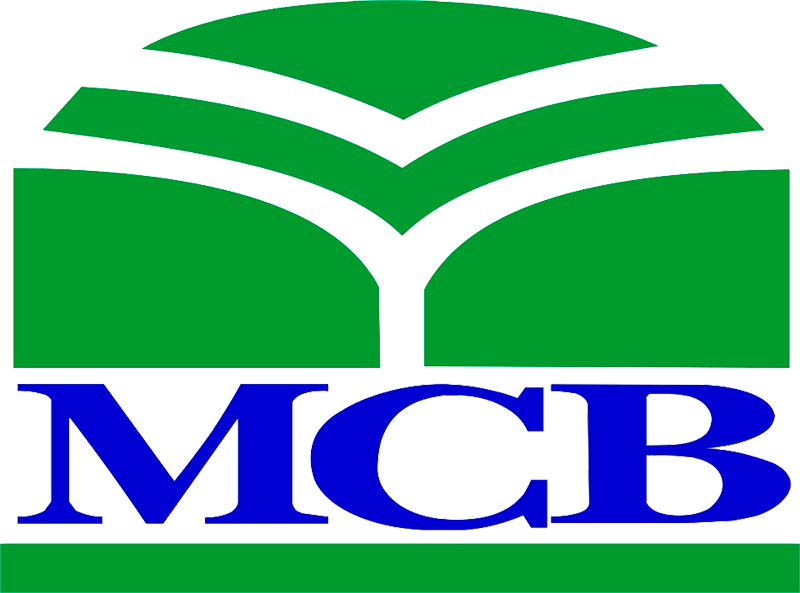 MCB, once called the Muslim Commercial Bank, has a long history in Pakistan's banking industry and has helped many people over the years. Pakistani multinational company Nishat Group and Malaysian bank Maybank possess the majority of the shares. This commercial bank was nationalized in 1974 during the government of Zulfikar Ali Bhutto and privatized in 1991. They offer a variety of financial services to meet their customer's needs. The bank has a global presence, which makes the process of sending and receiving payments abroad simple. It is trusted the most when trading across the border. With advice from Merrill Lynch, MCB became the fourth Pakistani company to list on the London Stock Exchange, raising $150 million through global depositary receipts. In 2008, MCB moved its main office from MCB Tower in Karachi to a new building called MCB House on Jail Road in Lahore.
| | |
| --- | --- |
| Number of Branches | Over 1,600 Branches Globally and over 1,450 ATMs in Pakistan |
| Founded | July 9, 1947 |
| Founder | Adamjee Haji Dawood |
| Headquarters | Lahore, Pakistan |
| Chairman | Mian Muhammad Mansha |
| CEO | Shoaib Mumtaz |
You can also read: List of Top 8 Insurance Companies in Pakistan You Should Know About.
Allied Bank Limited (ABL)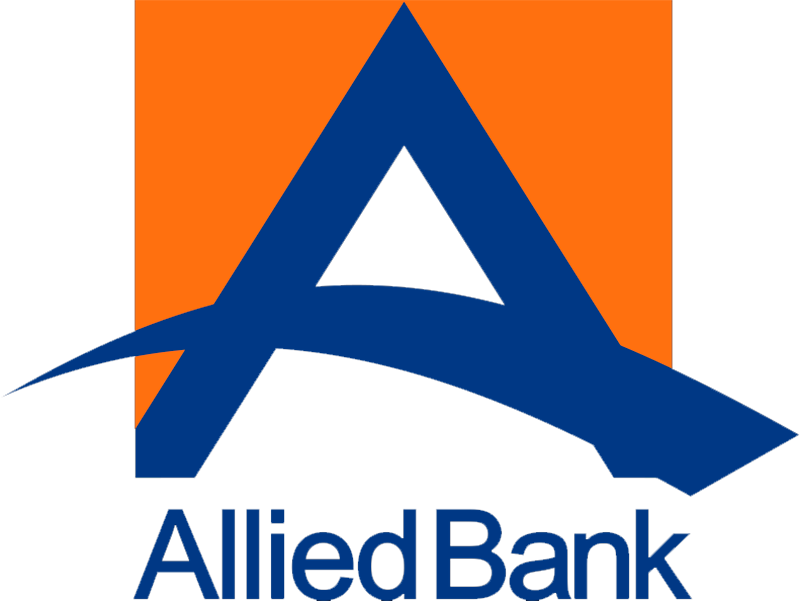 Allied Bank (ABL) is a subsidiary of the Ibrahim Group and the fifth-largest commercial bank in Pakistan. Allied Bank is a well-known and highly valued financial institution in Pakistan, known for providing extraordinary and top-tier banking services. This institution has solidified its position as an industry leader by constantly providing high-quality financial solutions to its diversified clients. The first Muslim bank, originally called Australasia Bank in 1942 before Pakistan's independence, became known as the Allied Bank of Pakistan in 1974. It also merged with Sarhad Bank Ltd, Lahore Commercial Bank Ltd, and Pak Bank Ltd. In September 2018, ABL introduced Aitebar Islamic banking, a Shariah-compliant service, available through 117 dedicated branches across 53 major cities in Pakistan. Islamic account holders can also transact at Islamic windows in conventional branches. In 2023, Allied Bank Ltd had a AAA (Triple A) Long Term Credit Rating and an A1+ Short-Term Credit Rating, according to the Pakistan Credit Rating Agency (PACRA).
Award & Recognition
Islamic Finance Excellence Award in 2017 by the Government of Punjab, Pakistan.
The Banker Award for Bank of the Year in 2022 – Pakistan.
Asia Money award in 2023 for Pakistan's best bank in diversity and inclusion.
Finance Asia 2023 – Best Domestic Bank.
| | |
| --- | --- |
| Number of Branches | Over 1400+ branches Globally. |
| Founded as | Australasia Bank |
| Founded Date | 3 December 1942 |
| Founder | Khawaja Bashir Baksh |
| Headquarters | Lahore, Pakistan |
| CEO | Aizid Razzaq Gill |
| President | Mohammad Naeem Mukhtar |
National Bank of Pakistan (NBP)

The National Bank of Pakistan (NBP), a government-owned institution, is essential for Pakistan's financial system. NBP has a large network of branches throughout the country, particularly in remote regions. The bank has made efforts to help overseas Pakistanis send money back home. In 2002, they partnered with Western Union to make it easier for people to send documented remittances. In 2020, the bank was recognized as a "Domestic Systemically Important Bank" (D-SIB) by the State Bank of Pakistan. It is a member of the SWIFT network and the Asian Development Bank. NBP also assists government agencies and supports national development and welfare projects. It's a great choice for keeping a decent credit score in Pakistan. It has agency arrangements with more than 3,000 correspondent banks worldwide. NBP has several subsidiaries which include Taurus Securities Ltd, NBP Exchange Company Ltd, NBP Leasing Ltd, NBP Modaraba Management Company Ltd, and CJSC Bank in Almaty, Kazakhstan.
| | |
| --- | --- |
| Founded | November 1949 |
| Headquarters | Karachi, Pakistan |
| CEO | Rehmat Ali Hasnie |
| Owner | State Bank of Pakistan |
| Number of Branches | 1,511 branches in Pakistan and its presence in Beijing, Tashkent, Chicago, Toronto, Hong Kong, Japan & South Korea. |
| ATMs | 2,200 ATMs in Pakistan & Over 1,000 ATMs overseas. |
Final Words
To sum up, we have covered the top bank for overseas Pakistanis in Pakistan, offering excellent services to them. Each bank in this list has its own strengths and serves a wide range of financial needs for individuals and businesses engaged in local and international transactions. When choosing a bank for international banking requirements, you should need to consider factors like convenience, services, fees, and reputation. If you are a Pakistani living abroad, one of these banks may be the best option for remittances money to Pakistan.