Life is both stressful and wonderful. We get lost in it and forget that it is also unexpected and unreliable. Our daily responsibilities prevent us from thinking beyond our current income and accumulating resources for the future. It may be in the form of investments, savings, or insurance. Insurance is a type of investment that allows you to prepare your financial protection in the event of an unfavorable occurrence. In this article we will discuss about the list of top 8 insurance companies in Pakistan you should know about.
People in Pakistan have doubts about investment plans due to religious and cultural beliefs, yet many people support it for a better and more secure future. The total gross written premium (GWP) in the Pakistan insurance market was PKR 513.2 billion in 2022, with a CAGR of more than 11% predicted between 2023 and 2027. Rising inflation, political instability, flood damage, and supply chain disruption have all hindered Pakistan's economic growth. Implementing policy reforms, ensuring political stability, improving the quality of public expenditure, and resumption of macroeconomic stability will all contribute to economic stability.
What is insurance?
Basically, insurance refers to having a backup in case of any kind of loss. By purchasing insurance, we transfer our risk of losing our life, car, or health to the companies. By accepting their terms and conditions, you can transfer responsibility for your loss to the insurance companies.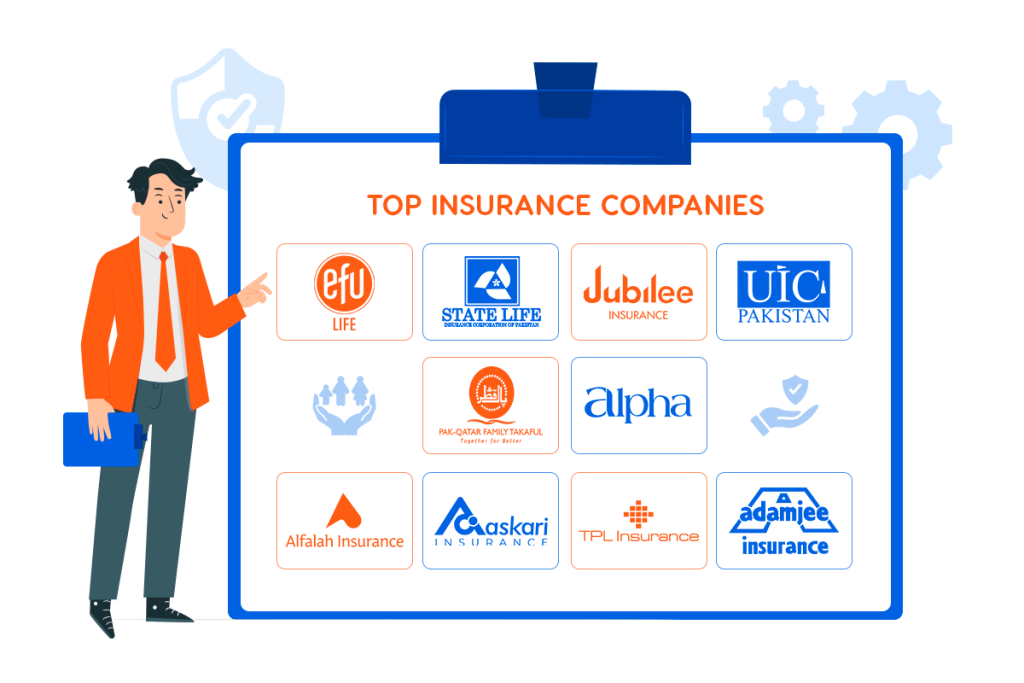 Why should you purchase insurance?
Insurance basically gives you security. We never know what will happen next in our lives or when we will need support. So, taking loans or relying on someone else is no way better than getting self-insured. We list down a few significant purposes of insurance:
  It gives you financial support.
It relieves you of the burden of not knowing what will happen next.    
It will help your family in the event of death.
Top 08 Leading Insurance Companies in Pakistan
Multiple insurance companies in Pakistan offer the above-mentioned insurance services according to different terms and conditions. Here are the list of top 8 Leading Insurance companies of Pakistan.
State Life
Jubilee Life Insurance
EFU Life Insurance
Adamjee Insurance
Alfalah Insurance Company
Pak Qatar General Takaful
Askari General Insurance Company
Alpha Insurance Company
State Life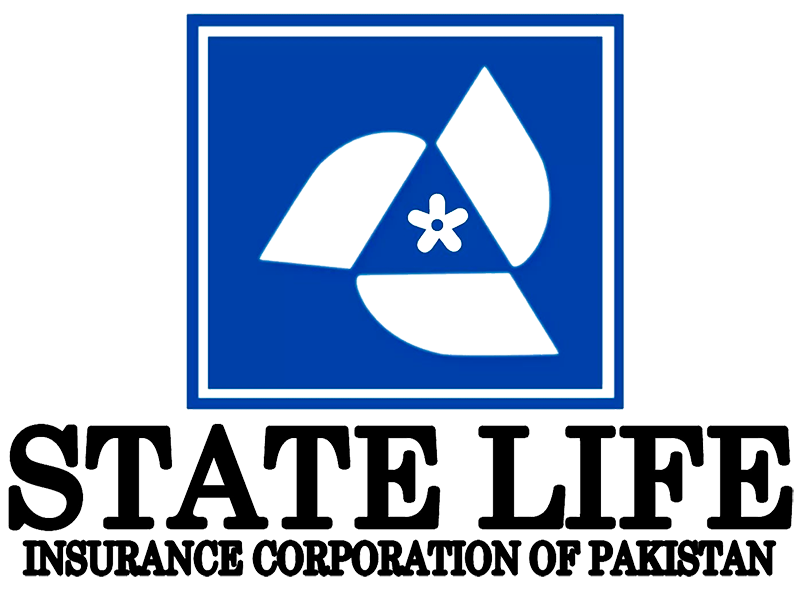 State Life Insurance is a government-owned company that provides a variety of insurance products to consumers. The main motive of the company is to take out the life insurance business and develop the best insurance company in Pakistan. It is reported that the company pays Rs.12 billion as a share to the government. It also deals with essential business matters such as policyholder investments, stock exchange participation, and strategic ventures inside Pakistani real estate businesses.
| | |
| --- | --- |
| Headquarters | Karachi |
| Founded | November 1972 |
| Owner | Government of Pakistan |
| CEO | Mr. Shoaib Javed Hussain |
The company offers various insurance packages to its customers. We will go over the major insurance plans that the organization offers.
Shad Abad Assurance
Anticipated Endowment Assurance
Life Assurance
Endowment Assurance
This powerful organization creates policies that protect you from unexpected events. These policies cover things like death, disability, and serious illnesses, offering you security and peace of mind.
Jubilee Life Insurance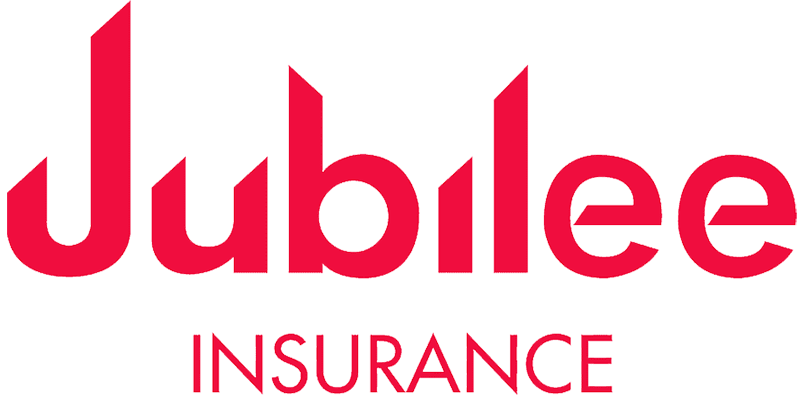 Jubilee Life Insurance began operating as a public limited company on June 29, 1995. This is Pakistan's top insurance company. The company uses the word "Happiness" as its symbol and for all right reasons. This is known as one of Pakistan's best life insurance companies. The insurance company is well-known for its clear terms and conditions, quick services, and the best insurance packages.
| | |
| --- | --- |
| Headquarters | Karachi |
| Founded | June 29, 1995 |
| CEO | Mr. Javed Ahmed |
| Owner | Aga Khan Fund for Economic Development (AKFED) |
The primary objective of the business is to force people to fight in dangerous situations. This company has been identified as one of the top 10 insurance companies in Pakistan 2023.
Individual life insurance (savings for your child's future).
Bancassurance (one-stop banking and insurance).
Micro-insurance (for underprivileged individuals).
Corporate insurance (for businesses).
Online insurance
Family Takaful (an insurance policy that is per the Sharia laws).
You can also read: My Jubilee App: Pakistan's First All-in-One Motor Insurance Solution by Jubilee General Insurance
EFU Life Insurance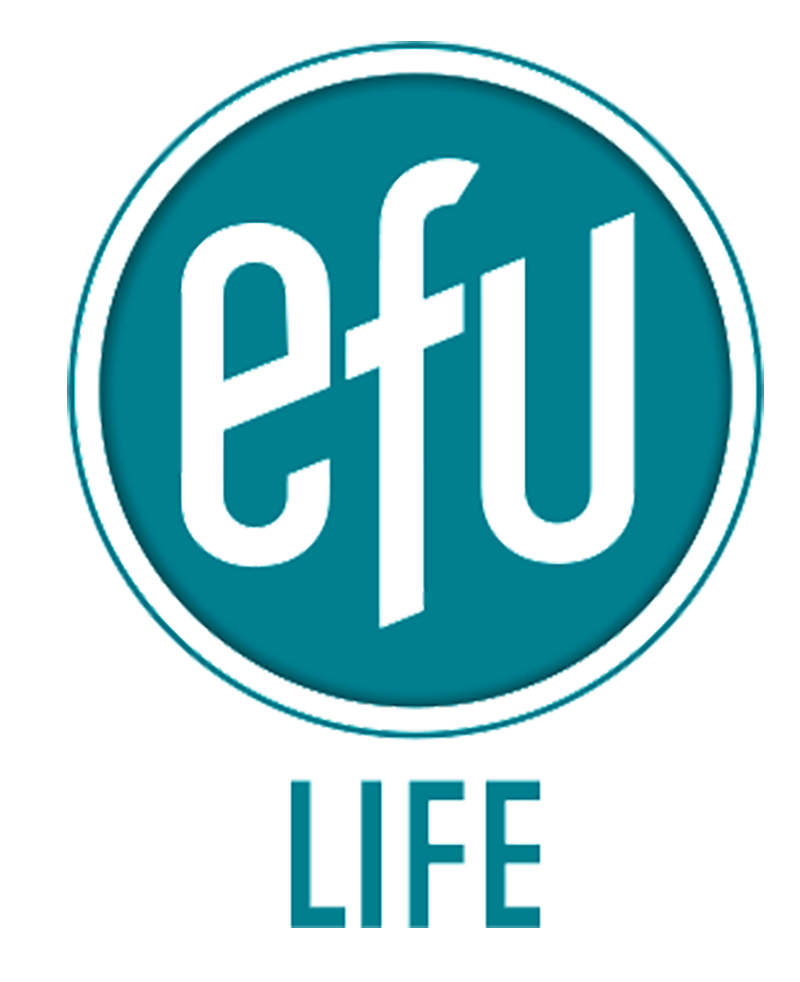 EFU Life Insurance began operations in Pakistan as a private limited business in 1992. It stands for Eastern Federal Union. EFU is well-known in the private sector for its most generous financial support. It is known as one of Pakistan's best life insurance companies. EFU is also the first company in the world to get ISO certified. It facilitates clients with a smartphone app, which is named EFU Life PlanIT. The software functions as a live information desk. Clients can use the app to access information about the plans and policies to which they have subscribed. The company has various branches all around the country.
| | |
| --- | --- |
| CEO | Taher G. Sachak |
| Founded | 1932 |
| Headquarters | Karachi |
| Owner | Eastern Federal Union Insurance Company Limited, Jahangir Siddiqui & Co. |
Some of their best products are mentioned below.
1. Education Planning Product
2. Critical Illness Products
3. Inflation Protection Benefit
4. Unit-linked products
5. Pension Plans
Adamjee Insurance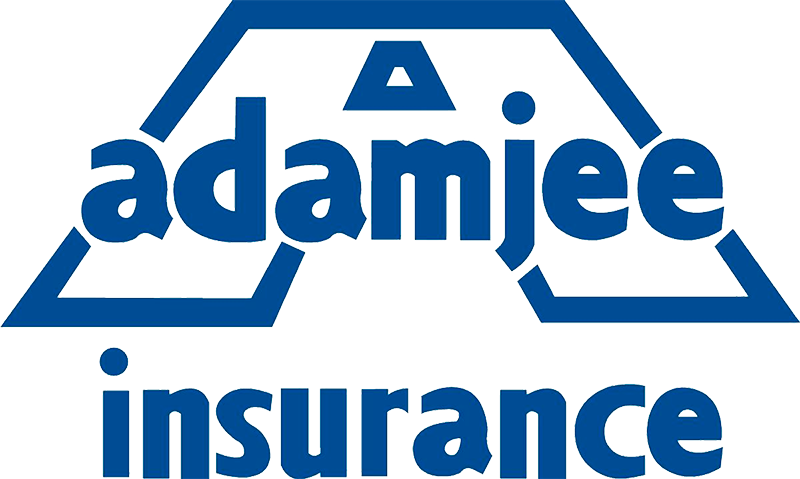 AICL is an international company with a presence in other regions such as the United Arab Emirates. The company deals with different types of insurance. It has a significant presence in the corporate sector because it contributes significantly to the health coverage of private-sector employees. All of their insurance services are ISO 9001 certified, and they've earned national and international awards and recognition. They are committed to providing their customers with reliable and cost-effective insurance solutions. If the company's progress continues, it would not be incorrect to say that it will become one of the top life insurance companies in Pakistan.
| | |
| --- | --- |
| CEO | Muhammad Ali Zeb |
| Founded | 1960 |
| Headquarters | Lahore, Punjab |
| Owner | Nishat Group |
They offer a range of insurance services, including:
Engineering Insurance
Fire & property insurance
Health insurance
Marine insurance
Motor insurance
Agriculture Insurance
Financial lines insurance
Liability lines insurance
Miscellaneous insurance
Personal accident insurance
Alfalah Insurance Company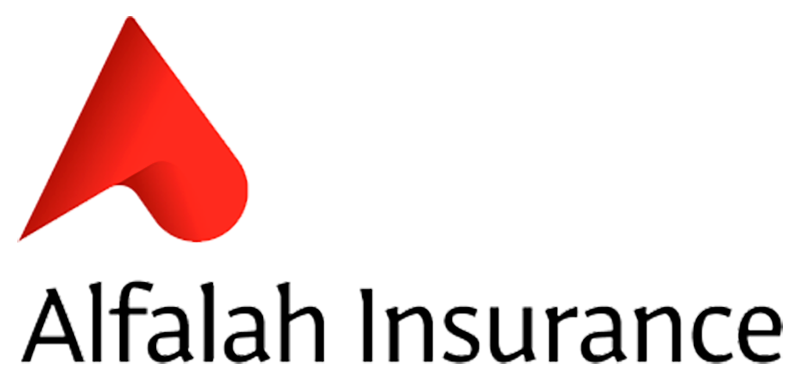 Alfalah Insurance Company, an Abu Dhabi Group enterprise, is one of the most recent competitors. The company has offices in all of the major cities in Pakistan, including Islamabad, Karachi, and Lahore, as well as Peshawar, Gujranwala, Sialkot, and Multan. Alfalah Insurance Company is also a part of the Insurance Association of Pakistan (IAP). FPCCI was additionally awarded as the very First Federation of Pakistan Chamber of Commerce and Industry to Alfalah Insurance Company in 2012. The company is well-known for its various insurance packages. Recently Pakistan Credit Rating Agency also placed Alfalah Insurance Company in the "AA" Category. In addition, the company provides property insurance to make things easier for you.
| | |
| --- | --- |
| CEO | Abdul Haye |
| Founded | 2006 |
| Headquarters | Lahore, Punjab |
| Owner | Abu Dhabi Group |
We will go over the policies that Alfalah Insurance Company offers. If you're looking for one of the greatest health insurance companies in Pakistan, Alfalah Insurance Company should be at the top of your list.
Marine Cargo Insurance
Energy Insurance
Engineering Insurance
Health Insurance
Automobile Insurance
Insurance for Real Estate
Pak Qatar General Takaful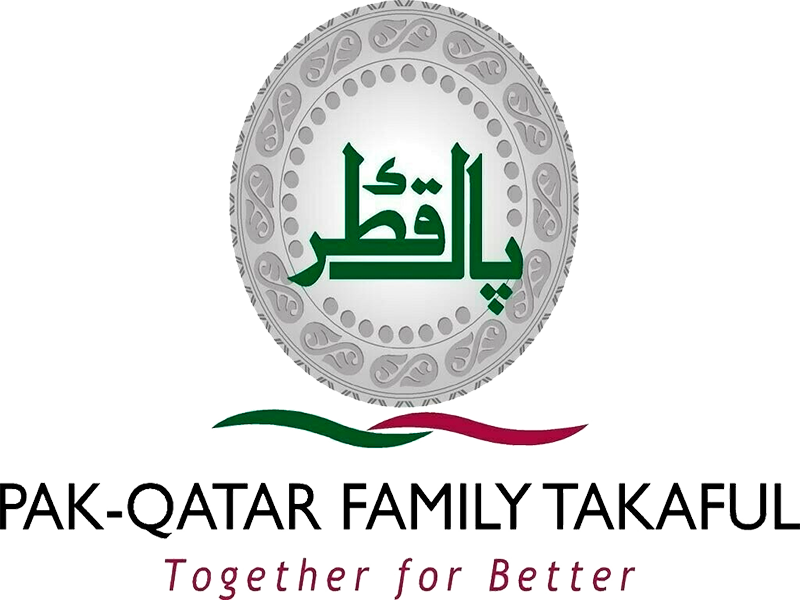 Pak Qatar was the first insurance company in Pakistan to offer Takaful coverage. Family Takaful and General Takaful are the two forms of Takaful available. According to Mufti Muhammad Hassaan Kaleem, all of the company's products and operations are Shariah-compliant. It has a significant presence in Pakistan, with over a hundred sites, an online platform, and mobile applications. PQGT is primarily owned by Qatar Insurance Islamic Company and Qatar International Islamic Bank. All of their items are designed in accordance with Islamic teachings.
| | |
| --- | --- |
| CEO | Zahid Hussain Awan |
| Founded | 2006 |
| Headquarters | Karachi |
| Owner | Pak-Qatar Groups |
All of their products are created in accordance with Islamic laws and values.
Plans Include:
Motor Takaful
Home Takaful
Family Takaful
Banca Takaful
Travel Takaful
Corporate Takaful
Askari General Insurance Company (AGICO)
Askari General Insurance Company, or AGICO, was founded in 1995. It is a private limited company that is regulated by the Securities and Exchange Commission of Pakistan (SECP). It was one of Pakistan's first insurance companies to be listed on the Pakistan Stock Exchange. This company's objective is to provide client-friendly services with a cooperative and professional staff. The company's biggest feature is its quick response. Askari General Insurance Company provides the following services which include Online Bidding, Health Web Portal, Mail Track Systems, Web Portal for Enterprise Health & Track Your Vehicle
| | |
| --- | --- |
| CEO | Abdul Waheed |
| Founded | 12 April 1995 |
| Headquarters | Rawalpindi |
| Owner | Army Welfare Trust (AWT) |
They offer the following types of insurance:
Aviation Insurance
Bond Insurance
Engineering Insurance
Fire Insurance
Health Insurance
Marine Insurance
Misc Insurance
Motor Insurance
Alpha Insurance Company

Alpha is a private-sector insurance company based in Karachi that was founded on December 24, 1951. It is a subsidiary of State Life Insurance Company. They have around 100 branches throughout Pakistan. The company believes in providing clients with value-added services. State Life Insurance Company owns over 95% of the company. People trust the company because it is one of the oldest corporations on the list of insurance companies in Pakistan. The company offers a variety of insurance plans. In the age of virtual services and cryptocurrency, the company continues to maintain its position and operate efficiently.
| | |
| --- | --- |
| CEO | Nadeem Bessey |
| Founded | December 24, 1951 |
| Headquarters | Karachi |
| Owner | State Life Insurance Corporation of Pakistan |
Their insurance services may include:
Property Insurance
Marine Insurance
Motor Insurance
Bonds Insurance
Machinery Breakdown Insurance
Fire Insurance
Conclusion
Choosing the best insurance provider in Pakistan might be a difficult task. However, by completing extensive research and comparing the top 8 insurance companies discussed in this article, you may find a company that offers dependable coverage at an affordable cost. By investing time in research and evaluation up front, you can be confident that you are making an informed decision about your policy and understand exactly what it covers.