Raast is Pakistan's first direct payment platform, allowing people, corporations, and government agencies to make end-to-end digital payments. The State Bank of Pakistan (SBP) created this payment gateway. It provides real-time money transfers with no transaction fees. Raast payments are made using an alias associated with the customer's bank account number. A customer's mobile number can be used as an alias, handling payments directly against their linked bank account. This reduces the need for long account numbers to be exchanged while doing transactions.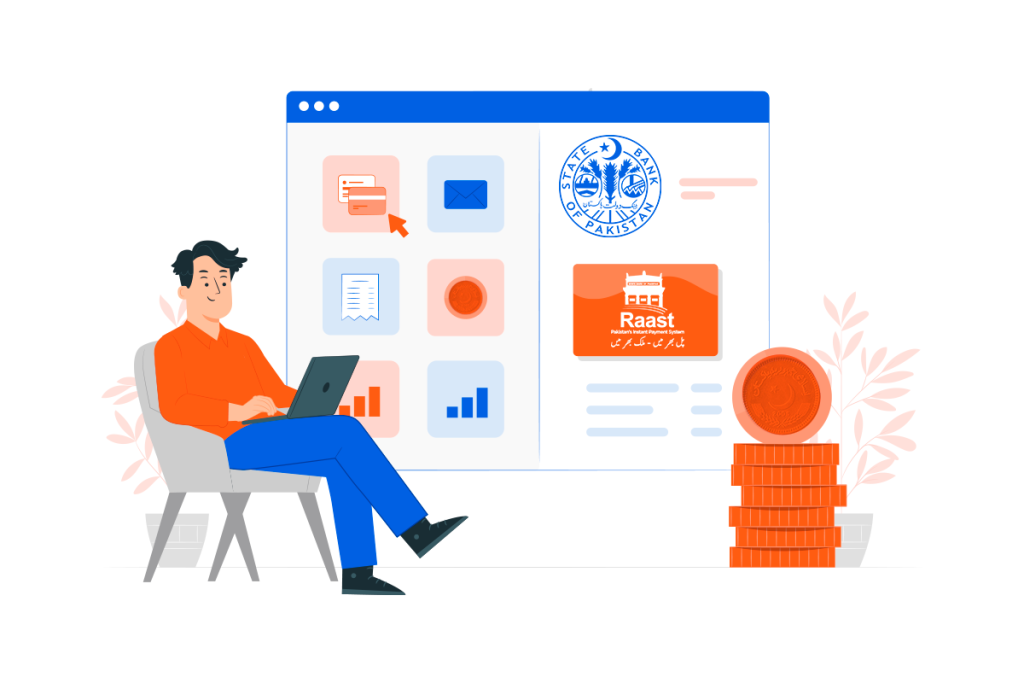 RAAST revolutionizes the digital payment system in Pakistan
The State Bank of Pakistan (SBP) launched a new online person-to-merchant (P2M) payment mechanism. This method was designed to help merchants receive instant payments from clients via their mobile phones.
The Raast instant payment platform has an important part called P2M, which will officially start in a few weeks. Already, six organizations are part of this new payment system. Raast has some advantages over traditional payment systems in Pakistan. It is faster, cheaper, and more convenient. It also uses state-of-the-art security measures to protect customer data.
Qazi Shoaib Ahmad's (Director of SBP) discussion on the Launch of the P2M Use Case with Six Entities
Qazi Shoaib Ahmad, Director of the Payment Systems Policy & Oversight Department at SBP stated "I am glad to share that the third use case P2M, has also been deployed since September 3, a couple of weeks back, and I am glad to share that six entities have already been onboarded on P2M." Ahmad highlighted how P2M could change the industry, mentioning that the six involved organizations are Bank Alfalah, MCB Bank, Allied Bank, JS Bank, EasyPaisa, and 1Link.
The SBP previously offered person-to-person (P2P) and bulk payment transfers on the Raast platform, and he noted that the SBP is actively working to enroll more banks in the P2M journey, including several in the testing phase.
Qazi Ahmad's Point of View on SBP's Ongoing Projects and Cyber Security Measures
"We are working on two projects. One is in-house, while the other is outsourced to an international provider. So, we are primarily working on a model to predict scams. We are attempting to comprehend the various aspects of CBDC. So we are establishing this path quite cautiously. The SBP also conducted industry consultation on this topic especially. So that's how the State Bank sees CDBC," Ahmad added.
This model, once created, will be integrated into the Raast platform to improve customer protection against potential fraud. Ahmad additionally highlighted the SBP's interest in blockchain technology and its potential significance in CBDC growth. He further stated that the SBP works with international financial institutions such as the World Bank and the International Monetary Fund to understand all CBDC elements better.
You may also read: Top 8 Best Online Shopping Websites in Pakistan
How to Use Raast
To transfer funds via Raast:
You don't need to register for a Raast ID if you're the sender.
Use your bank's channel (mobile app, internet banking, branch, USSD).
Enter the recipient's IBAN or Raast ID (their mobile number) at Raast-enabled banks.
Confirm the amount within your bank's limits.
Your payment will be sent instantly.
How to create Raast ID
Raast ID simplifies payments via your mobile number, eliminating the need for account numbers or IBANs.
Use your bank's channel (app, internet banking, branch, USSD).
Verify your mobile number to link it to your account.
Your bank will confirm your mobile number as your Raast ID.
Each customer can have only one Raast ID linked to one account.
Features
Instant Payments
Send and receive money across individuals, instantly with Raast Services
No transaction fees
It is an affordable digital payment option with no charges for customers.
Vast Network
Accessible to customers of any financial institution across the country.
Reliable and Secure
Raast ensures that each transaction is authorized by the payer, and offers enhanced data protection and fraud detection services.
24/7 Support
Raast is available round the clock. 24/7 helpdesk support is offered by the banks.
Raast's Bright Future in Pakistan
Raast can potentially transform Pakistan's payment industry, making it faster, cheaper, and more accessible.
Key Impact Areas
Financial Inclusions
Raast can provide banking services to the unbanked, reducing poverty and improving lives.
Efficiency
It reduces time and costs, boosting productivity and economic growth.
Security
Robust security builds trust and confidence in the payment system.
Future Possibilities
Here are some points of development in Raast in Future:
1. Cross Border Areas
Raast may facilitate international transactions and encourage global business.
2. Government Payments
Simplifying tax and bill payments for citizens.
3. New Financial Services
Supporting innovations like mobile banking and microfinance.
Raast can improve millions of lives while additionally stimulating economic growth and development in Pakistan. We should expect even more innovative and disruptive goods and services to emerge as more people and businesses adopt Raast.
Final Words
Raast is changing how people in Pakistan handle money online. It makes sending and receiving money fast, cheap, and safe for everyone. Raast is still in its early stages of development, but it is already having a major impact on the digital payment system in Pakistan. The recent addition of online payments for businesses is a big step forward and Raast is getting even better with banks like Bank Alfalah, MCB Bank, Allied Bank, JS Bank, EasyPaisa, and 1Link on board. The State Bank of Pakistan is working hard to make Raast more useful and secure, like predicting scams. Raast can help more people access banking services, save time and money, and feel confident about their transactions. As Raast expands in popularity and more people use it, digital payments in Pakistan will improve.