Starting a business is one of life's most difficult decisions. One must evaluate various factors before making a decision, whether it is to pursue a dream, to leave a tedious and unrewarding career, to begin a journey toward financial security, or to seek personal and family contentment. Your motivation for creating a business can be anything but it must have a component of community service. A business will succeed if it is started to address a problem and help people. A home-based business, on the other hand, provides you with peace and comfort in addition to the target clients. It can assist you in creating a schedule, pursuing a passion, eliminating employment stability, and building a strong business while minimizing business expenses. Pakistan is a developing country with numerous chances for home-based businesses. There are numerous ideas but it is up to you to select the one that corresponds to your expertise, experience, budget, and learning resources. Lets get into 7 Profitable Home-Based Business Ideas if you are young enough to master new abilities. The older generation may utilize their previous expertise.
Top 7 Best Business Ideas Options in Pakistan With Low Investment in 2023
Here is the list of the best 7 Business Ideas with minimum investment for the Pakistani community, mentioned below
Content Writing / Blogging
Editing and Proof Reading
Freelancing
Social Media / Online Marketing
Photography
YouTubing
Graphic Design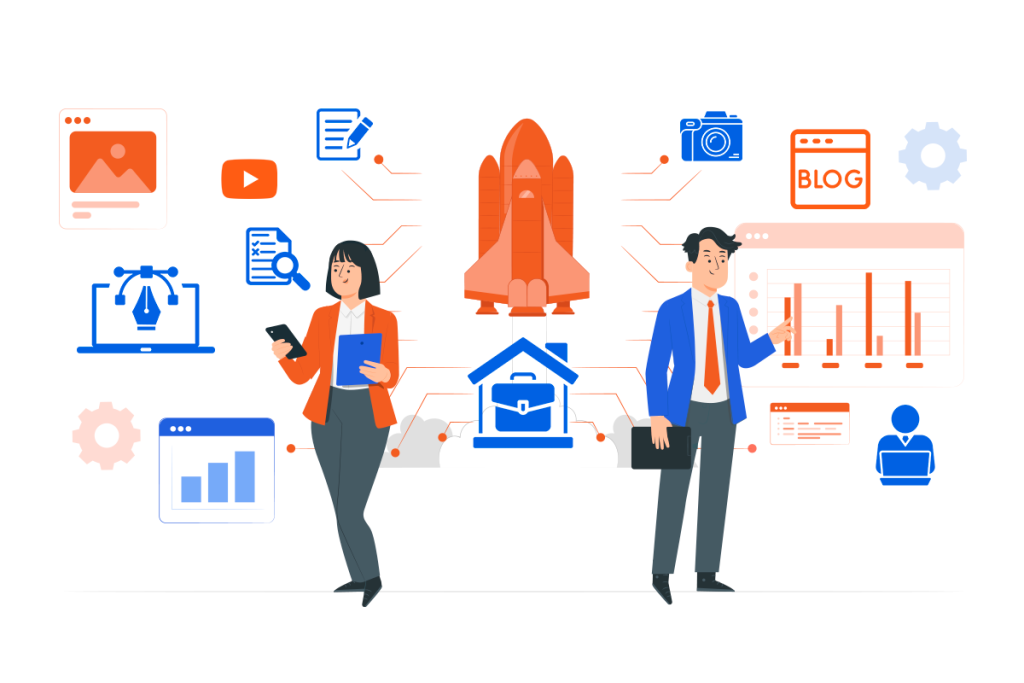 Content Writing / Blogging
Blogging and content writing have recently become popular. As a result, it has been demonstrated that blogging is an effective, profitable, and low-investment business in Pakistan. Blogging is the online publication of content, writing, photography, and other self-created media. Blogging allows you to share your opinions with others online and learn about theirs. You can begin blogging for personal or commercial purposes. Blogging allows you to rank your website on Google make it visible to your target audience, and sell your products or services. You may simply generate profit by using sponsored Google advertisements and affiliate marketing. Blogging helps in the generation of organic traffic and the generation of high-quality leads for your website. All you need is a laptop with internet access or just a pen and paper. The progress is gradual in this type of business but shows to be profitable in the long run.
The most popular forms of content writing are:
Editing and Proofreading
It is a simpler job than content writing because there is no self-innovation involved, only rechecking of what has previously been written. So, if you are a competent reader with a strong command of the English language, you should pursue this zero-investment opportunity. Editing focuses on making your information more accessible by analyzing its overall structure, clarity, conciseness, style, and citations. Editing is the process of revising your work to improve its overall structure, clarity, and conciseness. Proofreading is the process of checking for surface errors in grammar, spelling, punctuation, and formatting.

| | |
| --- | --- |
| Proofreading | Editing |
| Done on the final draft of the document | Done on the first draft and continued until the draft is finished |
| Fixes surface-level issues like spelling, grammar, punctuation, and formatting | Fixes the core of the writing, like clarity, readability, and smooth narration |
| Has a universally accepted definition | The definition varies depending on the scope of editing |
| Does not reduce the word count | Can reduce the word count, if needed |
| Makes already good writing error-free | Improves the overall quality of writing |
| Does not require much collaboration with the author | Requires collaboration with the author |
| Shorter turnaround time | Slightly longer turnaround time (because more work is required) |
Freelancing
Working on a contract basis for a range of companies is referred to as freelancing, as opposed to working as an employee for a single organization. Freelancers are typically termed self-employed since they have the option to pick and choose which projects they want to work on and which companies they want to be linked with. It can be a great way to have a flexible work schedule and to be your own boss. However, it also comes with some challenges such as finding clients, managing your time effectively, and paying your own taxes.
Notable Points for Freelancing Career
If you are considering a career in freelancing, there are a few things you can do to get started:
Identify your skills and interests. What are you good at? What are you passionate about?
Investigate various freelance markets. There are numerous websites and venues where freelancers can look for work.
Establish a solid web presence. Having a decent website and portfolio, as well as being active on social media, are all part of this.
Make connections with other freelancers and possible clients. Attend industry events and make online connections.
Bid on freelance projects and start building your portfolio.
Freelancing can be a rewarding career but it takes hard work and dedication to be successful.
Social Media / Online Marketing
Online marketing is a wide phrase that covers all sorts of online marketing. This comprises social media marketing, but also search engine optimization (SEO), pay-per-click (PPC) advertising, and email marketing. Social Media Marketing which truly is booming currently. Aside from the essential supplies, such as a laptop or mobile phone and an Internet connection, this type of zero-investment business does not even require a lot of expertise. You should just learn the basic use of social media and has to promote or advertise any small or large business over it. Furthermore, social media not only allows businesses to connect with customers in previously unimaginable ways but it also provides an incredible variety of channels through which to reach target audiences ranging from content platforms like YouTube and social media sites like Facebook to microblogging services (like Twitter).
Photography
Photography is the art, application, and practice of creating images by recording light either electronically by means of an image sensor or chemically by means of a light-sensitive material such as photographic film. Photography is a diverse and ever-changing industry with numerous techniques and genres. Some photographers want to capture the natural world's beauty, while others choose to portray social and cultural challenges. Photographers who specialize in portraiture, landscape photography, wildlife photography, and other areas exist. Whatever their style or genre, all photographers try to create photos that are both visually pleasing and meaningful. A good snapshot may freeze time, tell a narrative, or elicit an emotion. It can also be used to chronicle history and major events or simply to share a lovely view with the rest of the world. A one-time investment of roughly one lakh rupees in a DSLR camera would undoubtedly provide excellent outcomes.
Here are some of the most famous types of photography careers:
Commercial photography (food photography, fashion photography, or product photography).
Portrait photography (wedding photography, family photography, or corporate headshots).
Photojournalism (for newspapers, magazines, and websites).
Fine art photography
Scientific photography (Photos of scientific specimens and phenomena).
Underwater photography
Photography equipment list for experts
See More: How Freelancing is Shaping Digital Economy in Pakistan
YouTubing
YouTube has enabled many people to earn a living from the comfort of their own homes. As a YouTuber, you create videos and then monetize them. All you need is a unique idea or expertise to share with the world, a decent setup, and video-making and editing abilities. Being a YouTuber allows you to have fun while earning money. However, in order to achieve the status of a popular name, you must be dedicated and hardworking. Dedication is essential. You may need to invest in multiple personal development courses and concentrate on a specific area of interest. YouTube channels that deal with fields like crocheting, cooking, lifestyle, and travel vlogs have lots of following. Make a plan to help you stay on track and regularly meet the goals of your YouTube channel.
Here are some tips for becoming a successful YouTuber:
Find your niche.
Create high-quality content.
Promote your channel. (on social media and other platforms)
 Be consistent.
Interact with your audience.
Graphic Designing
A graphic designer takes information from a person and transforms it into visually appealing content. Many of the items you see and use on a daily basis are the work of graphic designers. Branding, books, magazines, apps, advertisements, packaging, logos, badges, maps, and websites are all examples. You can do more than just design logos, publications, and brand packaging as a graphic designer. You could work as an illustrator, motion designer, or concept artist. These are talents that may be learned for free or for a fee online. You can work as a freelance graphic designer from home, enjoying the flexibility to work on creative projects and collaborate with great clients. You must be flexible as a self-employed graphic designer in Pakistan. You can work remotely by displaying your talents on several freelance networks.
Here are some of the important skills that graphic designers need:
Creativity
Graphic designers need to be able to come up with original and innovative ideas.
Technical skills
Graphic designers need to be proficient in using a variety of design software such as Adobe Photoshop and Illustrator.
Communication skills
Graphic designers need to be able to communicate their ideas effectively to clients and other stakeholders.
Problem-solving skills
Graphic designers need to be able to solve problems creatively and efficiently.
Final Words
In 2023, you can use technology to launch a successful business from the comfort of your own home in Pakistan. You can make money online by selling items, working as a freelancer, or teaching online. The tech era has opened up a world of possibilities for home-based businesses in Pakistan. The Pakistani business sector is evolving, and you can be a part of it. With the right skills and determination, you can start your own business from the comfort of your own home and be your own boss. Make sure to have a dedicated workspace in your home where you can focus on your business. This will help you to stay organized and productive.