The tech industry in Pakistan is doing quite well and more tech jobs are becoming available. According to a recent World Economic Forum estimation, Pakistan will have one of the world's fastest-growing tech marketplaces in the next five years. This is happening because many people in Pakistan are using smartphones and the internet, there are more startups, and the government is helping the IT sector.
The transformational power of technology has reached every corner of the earth, including Pakistan. In this thorough blog, we will investigate the complicated and diverse link between technology and unemployment in Pakistan, exploring both the serious obstacles and the great opportunities it offers.
In-Demand Tech Jobs in Pakistan
In Pakistan, there are lots of exciting job opportunities in the tech field. And there is also a growing need for tech experts in areas like blockchain, fintech, and healthcare technology. Some of the top tech jobs are: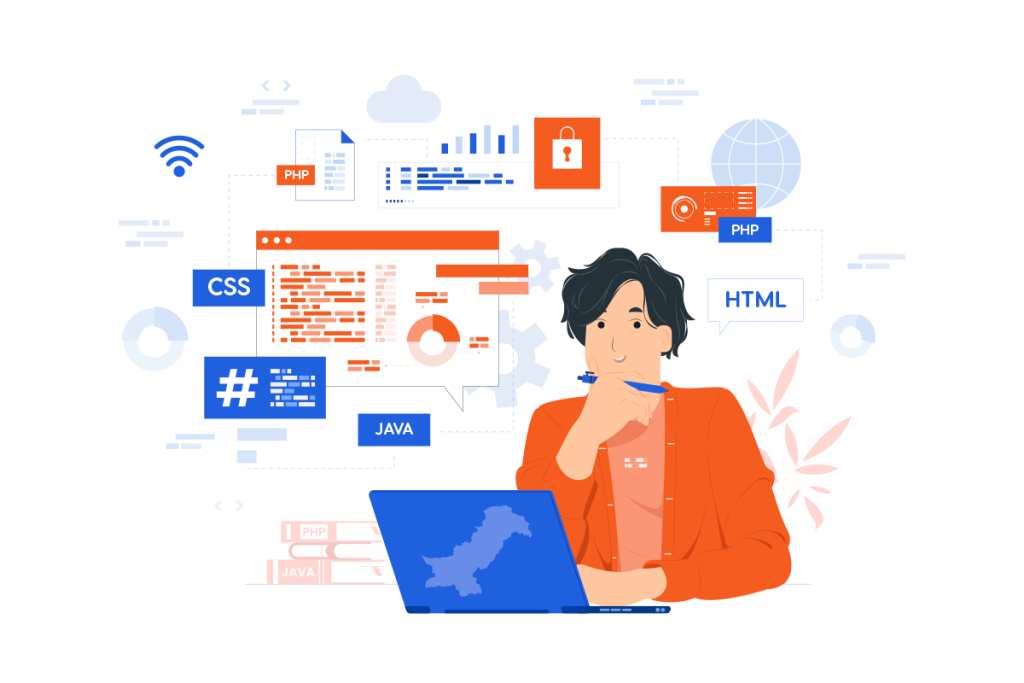 Pakistan's Present IT Sector
300+ International Companies (Bently, Ciklum, IBM, Mentor Graphics, S&P Global etc.)
16 Software Technology Parks
Exporting to 120+ Countries
5th Most Financially Attractive Country
3rd Most Popular Country for Freelancing (2019 Global Gig-Economy Index)
Well Developed Telecom Infrastructure (6 international cables & 4 mobile operators)
Challenges in the Tech-Driven Job Market
Here we mention some Challenges that Pakistan faces in Tech related Jobs
Job Displacement
Some professions that do not require a high level of skills are at risk of being taken over by gadgets that can think and learn. These machines are changing the way companies and people conduct their operations. They will be hired drastically more in the future, and machines will perform countless simple chores. This means that workers will need to learn new skills in order to remain competitive in the employment market. Many people may lose their jobs in occupations that predominantly involve physical labor.
Skills Gap
Many job applicants in Pakistan lack the digital skills needed in modern job sectors. It is important to close this gap so that we can use technology itself to create more jobs and ensure that Pakistani people can compete internationally.
Urban-Rural Disparities
The positive impacts of technological advancements are not uniformly distributed. In terms of employment and economic development, metropolitan areas have more access to technology and job prospects resulting in a significant urban-rural difference. It is vital to address this disparity in order to ensure equitable access to opportunities.
You can also read: Best Tech Careers that Don't Require Coding Skills
Opportunities in the Tech-Driven Job Market
Here are some opportunities and trends in the Tech-Driven Job Market, listed below
Emerging Tech Sectors
Many jobs are being created in Pakistan by the IT sector. Jobs in software engineering, data analysis, and artificial intelligence are increasing as Pakistan's IT and software development businesses increase.
Freelancing & Remote Work
Thanks to the internet and remote work, people in Pakistan can now work as freelancers for clients from all over the world. This means they have more chances to make money and find jobs.
Skill Development Projects by Government
The government is working with private companies and foreign organizations to help young people learn important skills. They are teaching things like using computers, starting their own businesses, and being ready for jobs. This way, there will be enough skilled workers for the future.
Government Initiatives and Policies
The Pakistani government recognizes the problems and opportunities that technology presents. To address the issue of unemployment in the tech-driven era, several noteworthy initiatives and policies have been launched:

Digital Pakistan Initiative
By improving connection and digital literacy, the Digital Pakistan program intends to build a knowledge-based economy. This program has the potential to increase access to Internet job opportunities for Pakistanis, hence expanding employment chances.

National IT Policy
The government's National IT Policy focuses on promoting IT exports, creating more jobs in the IT sector, and developing worker digital skills, all while aligning with the broader goal of improving employment prospects within the country, Pakistan.

E-Rozgaar Program
Recognizing the relevance of digital skills for modern-day work, the E-Rozgaar Program provides free training to empower youth to make money through freelancing. This initiative promotes self-employment and entrepreneurship, opening up new opportunities.
Private Sector and Entrepreneurship
The private sector plays an essential role in terms of developing job prospects through technology. Pakistan's startup ecosystem is growing, attracting investment, and encouraging creativity. Startups are essential in generating employment and addressing particular market demands, and they serve as a significant source of new job opportunities.
According to the Pakistan Software Export Board (PSEB), Pakistan's IT industry is growing at an 18% annual rate and is predicted to reach $7 billion by 2023. The sector employs about 300,000 people and is predominantly based in the cities of Karachi, Lahore, and Islamabad.
Future Trends
In the modern age, technology is changing at a rapid pace, which hastens and accelerates progress. The following are some of the top technology developments that are expected to propel the planet forward.
Even though the IoT industry is in its early stages, Pakistani IT experts are showing great potential to help more businesses with their services.
Renewables such as solar PV, wind, hydropower, and bio-energy are expected to meet roughly 70% of global electricity generation growth between 2018 and 2023. Hydropower (16%), wind (6%), solar PV (4%), and biofuel (3%) will meet world electricity demand by 2023.
5G technology will be at the forefront of the hyper-connected world with an expanding number of networked things communicating with each other. As a result, it will generate an abundance of new IoT-oriented and data-driven business prospects as well as commercial usage scenarios that capitalize on the real-time data potential.
Cloud automation services will be worth $12.38 billion by 2022 and cloud management tools will be worth $21 billion.
Blockchain is currently one of the most well-known business technologies with the ability to drive huge changes and generate new opportunities across industries ranging from banking and cybersecurity to intellectual property and healthcare.
Nearly 95% of CIOs, CTOs, and technology leaders surveyed by IEEE believed that artificial intelligence (AI) would drive the majority of innovation across almost every industry sector in the next one to five years.
Final Words
Jobs in Pakistan are currently affected by technology. Some people may lose their jobs but new chances in technology and remote work exist. To take advantage of these opportunities, we must assist people in developing essential skills and ensure that everyone has access to technology. The government and businesses may help by investing in technology and innovative ventures. People must gain new skills to deal with these advancements in technology. To create more jobs and improve the economy, Pakistan needs to encourage its workforce for the digital era.